News & Updates
​​
---
About Us
The New Jersey Self-Advocacy Project (NJSAP) was established in 1983 to challenge individuals with intellectual and developmental disabilities to become involved in events, legislative policies, and issues that affect their lives or lives of others with disabilities. 
We work together with these individuals to form The New Jersey Statewide Self-Advocacy Network (NJSSAN), which is used as means of supporting positive change on both a personal and social level. The NJSSAN consists of five Councils based on geographic location within the state. To learn more about the NJSSAN and how to attend monthly Council meetings, click here.
Our work includes conducting trainings and leadership seminars for self-advocates and group advisors across the state, supporting more than 150 self-advocacy groups across the state, facilitating fundraising and public outreach initiatives, conducting presentations to community groups, schools and conference audiences, and educating state legislators regarding issues of importance to people with disabilities.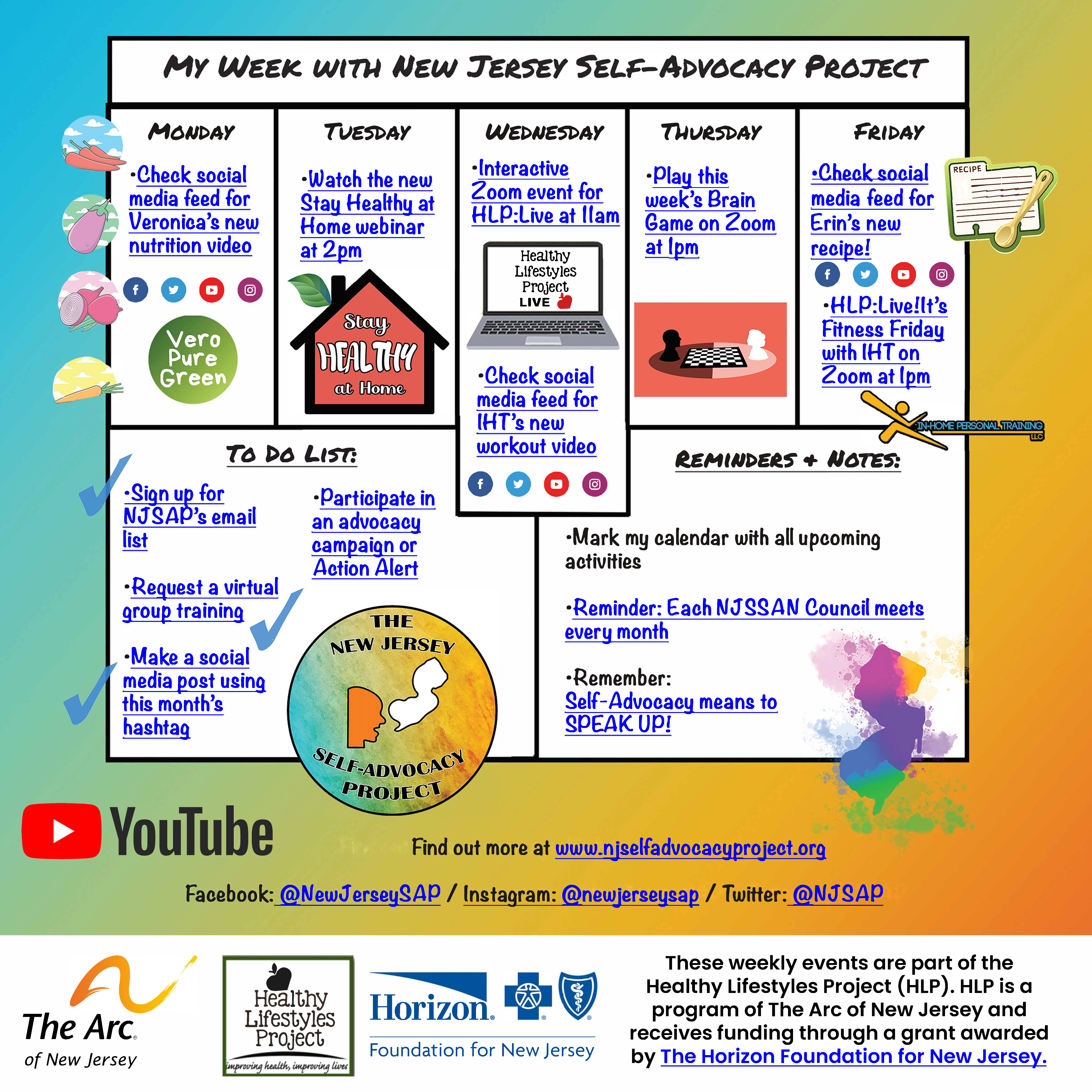 ---

Interested a free workshop at your location?

Looking for more training resources?
For other IDD related trainings and archived training resources, check out DD Training Resources.

Interested our Health and Wellness program?
Find out more about the Healthy Lifestyles Project, funded by The Horizon Foundation for New Jersey.
---
NJSAP Publications
The Self Advocate:  A bi-annual newsletter produced the New Jersey Self Advocacy Project (NJSAP) team. The Self Advocate contains registration information for  two major events hosted by the New Jersey Statewide Self Advocacy Network: the Fall Conference and the Spring Into Action Luncheon.  The publication also contains information about monthly meetings, training and educational opportunities, as well as legislative advocacy efforts.
Advocacy Matters: A monthly e-newsletter geared to providing self-advocacy group advisors and network members with training tips and information about upcoming events, along with features of the most recent advocacy activities hosted by members of the New Jersey Statewide Self-Advocacy Network (NJSSAN).
---
For further information, check out these helpful handouts!
---
Social Media
Follow The New Jersey Self-Advocacy Project on Twitter, Facebook, Instagram and Youtube!