ADA Anniversary and Disability Pride Month
Please join the New Jersey Self-Advocacy Project (NJSAP) team, along with members from the regional Councils of the Statewide Self-Advocacy Network, in celebrating Disability Pride Month and the 32nd Anniversary of The ADA!
Signed into law on July 26, 1990, The ADA, or Americans With Disabilities Act, is a civil rights law that prohibits discrimination against people with disabilities in all areas of public life, including employment, schools, transportation, and all public and private places that are open to the general public.
Take a look at our factsheets and webinars below to learn more about The ADA!
Once you know all about The ADA by reading and watching the above resources, it's time to take action! Each week, we will promote an action to celebrate ADA Awareness Month.
This week, participate by reaching out to your legislators about a disability topic that is important to you. For example, you can use this template to participate in one of The Arc of the US's Action Alerts. Reach out to your Senator or Assembly member by phone, email or Twitter and ask them to support The SSI Savings Penalty Elimination Act.
---
ADA Bingo
Get involved all month long by reading our emails, following us on social media, and by playing ADA Bingo with the card below. Share, speak out, or sign up to get involved! You can use one method and complete a column or mix it up and fill out a row or diagonal to complete your bingo card.
Send us an image of your three or more completed boxes with a brief description of what you actions you took for a chance to be featured on our social media pages and website this month!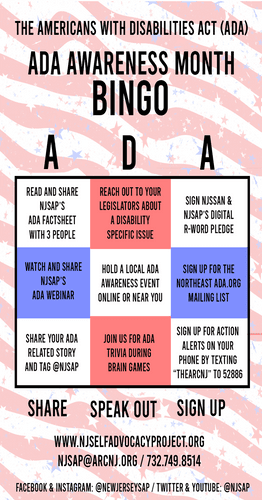 ---
Thanks to the ADA Templates
Join us in a making a post on your social media platform of choice (Facebook, Twitter, Instagram; any or all!).
Utilize the theme to create a post about The Americans with Disabilities Act! What does it mean to you? How has it improved your life? Let us know!
Don't forget to use the hashtag #ThankstotheADA and tag @NewJerseySAP (FB and Instagram)/@NJSAP (Twitter) and @TheArcofNJ.
We've collected an array of excellent submissions for you to view below.
Thanks to the ADA Templates