Periodically, The Arc of New Jersey receives requests to disseminate information regarding surveys and research studies focused on intellectual and developmental disabilities and related topics. It is the policy of The Arc of New Jersey to post information about these surveys and research studies on this page, enabling visitors to click on the related links if they are interested in participating. Only surveys and studies which are sponsored by an accredited educational authority or nationally recognized research entity, and/or approved by an Institutional Review Board (IRB) will be posted. Posting on this page does not indicate endorsement of the study, survey or researcher by The Arc of New Jersey. Participation in a survey or research study is at the discretion of the individual.
---
Normal Pressure Hydrocephalus Study
Are you living with Idiopathic Normal Pressure Hydrocephalus and willing to share your opinions in a paid interview?  Pillar Patient Advocates is working with a market research firm who is hoping to include 8 adults or caregivers in a 60-minute phone/web interview, there is also a short pre-work assignment to complete prior to the interview.  In appreciation, participants are paid $145 for their time and input.  If interested, please email Erin Pilkington at EPilkington@PillarAdvocates.com with your phone number. We will reach out to you to discuss the study and go through a few screening questions. This study is for US residents only.
Pillar Patient Advocates is a private patient advocacy firm whose mission is to help patients navigate the complex issues of the healthcare system so that they can make the best choices available to them along their journey. As advocates, we help patients understand their diagnosis, book the right appointments, work through insurance issues, and assist them in any way we can. Thanks to our strong relationships with patients, market research firms began to reach out to us to see if we can assist them with inviting patients to be a part of their paid health-related market research studies. This has become a crucial part of our business because it provides us with additional funds so that we can assist our patients at a minimal cost; and it also benefits the patients involved because they are paid for their time, and they get to share their stories and opinions directly to healthcare and pharmaceutical companies. The studies that we work on primarily focus on understanding the needs and lifestyles of patients in order to provide them with better treatment options.
---
An Interview Study Exploring Self-Advocacy
A doctoral student at the Rutgers Graduate School of Education is searching for adults with disabilities that graduated from high school, between the ages of 22 and 37, who would be willing share their self-advocacy experiences in adulthood. Eligible participants will be contacted to schedule two separate Zoom interviews. All information shared is confidential. For more information, click here.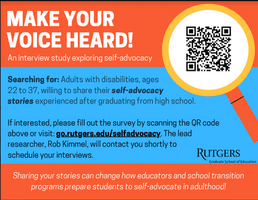 ---
The Development of Spatial Abilities Study at Montclair State University 
The Spatial Development Lab at Montclair State University is recruiting people with Down Syndrome and other intellectual disabilities (aged 12-25 years) to take part in a research study conducted by Dr. Yingying (Jennifer) Yang (Psychology Department). 
Title: The Development of Spatial Abilities 
Who is Eligible? People with Down Syndrome and other intellectual disabilities who are 12 to 25 years old. 
Where? Montclair State University 
Purpose?  We are studying how spatial abilities develop. 
What does the study involve? 
Children will complete some fun computer, board, and paper games. Parents will complete several questionnaires about their child's daily behaviors. It will take 2-2.5 hours with many breaks included. 
Compensation? Your child will receive a small gift and you will receive a $40 Amazon gift card. 
If you are interested in participating, please email us at msuspatialdevlab@gmail.com or self-schedule an appointment on our website https://www.msuspatiallab.com/appointments. Please visit our website to learn more about our research https://www.msuspatiallab.com/. This study has been approved by the Montclair State University Institutional Review Board, MSU IRB #FY17-18-834
---
University of Delaware's Autism Lab fNIRS Study: Families can participate in a study examining brain activity in infants, children and adults with and without Autism Spectrum Disorder, 3 months to 50 years; when performing various play or functional skills. This study involves 3 visits to our lab in Newark, Delaware. fNIRS is completely safe and non-invasive. A cap with LED lights is placed on the participant's head as he/she completes activities. Payment = $30 total. To volunteer, email abhat@udel.edu or call (302) 831-7608.
---
SPARK, autism genetic study
 The study is conducted in part by Children's Specialized Hospital and is sponsored by the Simons Foundation Autism Research Initiative (SFARI) 
SPARK is the world's largest autism research community, with a goal of recruiting 50,000 families to participate.
The study is conducted online and individuals and families with an autism diagnosis who live in the United States can register.
Participants will be asked to share information about their medical and family history, as well as to provide a saliva sample for genetic analyses to help speed up research and advance our understanding of autism.  SPARK is analyzing DNA to improve our understanding of the roles that genes play in the development of autism. 
SPARK will provide gift cards for saliva samples in the amount of up to $50, and will provide additional incentives for the completion of online questionnaires. 
Children's Specialized Hospital, is one of 31 SPARK clinical sites across the country.
Participants also have the opportunity to participate in other research studies through SPARK research match if you choose to share your information with the researchers.
To learn more about SPARK, You can visit the SPARK FAQ page at 

www.SPARKforAutism.org/CSH

SPARK research line (908) 301-5958
email: sparkcsh@childrens-specialized.org
No Deadline - Ongoing Study
---
Seeking Research Participants: Autistic Adults with Limited or No Spoken Language 
Researchers from Rowan University invite you to participate in a research study. They are looking for the following participants for a study on mood in minimally verbal or nonverbal adults.
Participants must:
Be 18-45 years old
Have a previous diagnosis of an autism spectrum disorder (ASD)
Communicate with single words or phrase speech, or use no verbal speech at all
Be able to walk
Have a parent or close caregiver who is also willing to participate.
Please contact Robyn Himelstein of the Tracking the Blues Study Team, via phone 856-431-2816 or email (SEAHL@rowan.edu) for more information. The study involves coming into our lab at the Rowan main campus (Glassboro) for about two hours. Questions? Contact Dr. Katherine Gotham (Principal Investigator) at gotham@rowan.edu. This study has been approved by the RowanSOM IRB (Study # PRO-2021-700)
---
MSU Autism and Neurodevelopment Lab: Recruiting for Paid Research Opportunity
Seeking Participants for Flexible Thinking Study at Montclair State University
Researchers at Montclair State University are looking for families with children and adolescents 6-17 years old that are typically developing or have/are suspected to have autism spectrum disorder to participate in an in-person study on how children switch their thinking and attention between tasks. We hope to better understand flexible thinking patterns and how they relate to social and emotional development. Participating families will receive a $50.00 gift card for completing this study.
Questions? Contact Montclair State University Autism and Neurodevelopment Lab at 973-655-3615 or email at erinkanglab@montclair.edu.  For more information on our current research projects, please visit our website at www.erinkanglab.com
This study ends August of 2024. 
---
Seeking Participants 
This research study is investigating the ability to use multimedia nutrition content through social media to educate and train direct support professionals and managers who serve adults living with intellectual and developmental disability (IDD).  Potential benefits of this important research study include establishing a low burden way to educate direct support providers around nutrition and healthy eating for adults with IDD. Participants may also learn about nutrition and healthy eating that they can apply to their own, everyday lives. See below for more details.
---
MOTHERS OF AUTISTIC GIRLS AND DAUGHTERS NEEDED: Please click link below for additional details. 
---
The Pregnancy Decisions App Project
The Pregnancy Decisions App Project, led by Willi Horner-Johnson at Oregon Health & Science University (OHSU), is looking for people to interview for their research project about pregnancy and disabilities. The goal of the project is to create a phone app for people with developmental disabilities, including autism and intellectual disability.
The researchers are starting by doing interviews to understand what to put into the app. For example, the researchers want to know what would help you:
Decide if you want to get pregnant,
Prepare yourself for pregnancy, or
Choose a way to prevent getting pregnant.
Interviews will last about an hour and can be done online, over the phone, or by email. If you do an interview, you will get a $50 gift card. Please see the flier for more information or go to their website (www.ohsu.edu/decisions-app) to learn more.
---
Seeking Research participants: Autistic Adults with Limited of No Spoken Language
Rowan University wants to learn more about emotional health and markers of depressed mood in people who do not use spoken language fluently.
They are inviting adults to participate in a research study. Participants will respond to questions about their thoughts and feelings, and they will look at faces on a computer screen. Participants must:
Be 18 - 45 years old
Have a diagnosis of an autism spectrum disorder (ASD)
Communicate with single words or phrase speech, or use no spoken words
Be able to walk, see, and hear
Have a parent or close caregiver who is also willing to participate
Contact: SEAHL@rowan.edu
856-431-2816
This study has been approved by the Rowan University School of Osteopathic Medicine Review Board (NUMBER) For more information, contact Robyn Himelstein at (SEAHL@rowan.edu)
---
Diagnostic Study at Rutgers University
Researchers from Rutgers University are recruiting participants and their parents or caregivers for a research study assessing the utility of a diagnostic interview for autism evaluation.
In order to participate in this research study, individuals should:
Have a diagnosis of a genetic, neurodevelopmental or mental health condition (e.g., Down syndrome, ADHD, Intellectual Disability, Anxiety, Autism)
Be between 10 years old to 35 years old.
Have a parent/caregiver who can provide information about childhood development and current behavior and experiences.
For more information, please click here. This study was approved by the Rutgers IRB (Project ID: Pro2021000805).
---