Periodically, The Arc of New Jersey receives requests to disseminate information regarding surveys and research studies focused on intellectual and developmental disabilities and related topics. It is the policy of The Arc of New Jersey to post information about these surveys and research studies on this page, enabling visitors to click on the related links if they are interested in participating. Only surveys and studies which are sponsored by an accredited educational authority or nationally recognized research entity, and/or approved by an Institutional Review Board (IRB) will be posted. Posting on this page does not indicate endorsement of the study, survey or researcher by The Arc of New Jersey. Participation in a survey or research study is at the discretion of the individual.
---
Family Survey on COVID-19 and Vaccines
The Boggs Center on Developmental Disabilities is developing resources and materials to share up-to-date information and support decision-making about COVID-19 and vaccines. We are interested in hearing from families of children and emerging adults with disabilities to guide this process. If you are a family member of a child or emerging adult with a disability, we are asking for your help in answering this survey, which should take no more than 10 minutes to complete. Your responses will be completely anonymous.
The information we learn will be used to develop resources and materials for families and emerging adults. The survey, and the development of resources and materials for families, is part of The Boggs Center on Developmental Disabilities' commitment to the health and well-being of children and adults with developmental disabilities and to empowering individuals with disabilities and their families. This survey is supported, in part, by funding from the Administration on Community Living to The Boggs Center as New Jersey's University Center for Excellence in Developmental Disabilities Education, Research, and Service. Click here to take the survey by September 3. 
---
Caregiver Survey for patients with DS who are Black/African American and/or Spanish-speaking
The Down Syndrome Research Program at Massachusetts General Hospital wants to hear from you. They are working on a research project to identify what things get in the way for Black/African American and/or primarily Spanish-speaking caregivers and accessing healthcare for their loved one with Down syndrome. 
They want to hear your voice through this 10-minute online survey https://redcap.link/761r1d9c .  
We believe that everyone should have access to excellent affordable, specialty care. Our goal of this questionnaire is to identify what barriers are getting in the way for primarily Spanish-speaking and/or Black/African American caregivers. 
If you are interested, please click on this link https://redcap.link/761r1d9c .
---
 Developing Supports to Address Mental Health Needs of Autistic Students in Postsecondary Education
Researchers: Vanessa Bal, Evan Kleiman Institution: Rutgers University
Who Can Participate: Students on the autism spectrum in postsecondary education in New Jersey (ages 18+) Location: Remote. See the description below for a link to the screening survey. Description: Researchers at Rutgers University are recruiting students on the autism spectrum and their parents/guardians for a semester-long research study to evaluate a self-guided intervention designed to support the emotional well-being of students on the autism spectrum enrolled in Postsecondary Education (PSE).
You may be eligible if you:
Are 18 years or older
Are accepted to or enrolled in PSE in New Jersey
Have a previous diagnosis of autism spectrum disorder
Have an iOS or Android compatible smartphone
Have a parent or guardian who is also willing to participate (fill out questionnaires)
If you are eligible, you will be asked to complete:
Questionnaires about you and your social and emotional functioning
A videoconference visit to assess cognitive and academic skills
An Emotional Support plan (ESP)
Daily check-ins via a smartphone app up to 4 times per day for 6 weeks
Compensation:
You can receive up to $253 for your participation
Your parent/guardian will receive up to $40
Please note that only 15 students will be enrolled in this study, so if you are interested, you are encouraged to fill out this form: https://is.gd/mentalhealthNJ. Contact: LifeSPAN ASD Lab, lifespanlab@gsapp.rutgers.edu
---
How the COVID-19 related school closures in England and the United States have impacted families that have children with Intellectual and Developmental Disabilities
Participant Criteria - Are you the parent or primary carer of a child between the ages of 5 and 18? Is your child diagnosed with an Intellectual or Developmental Disability? Has your family been impacted by the COVID-19 related school closures? If the answers to these questions are yes, you may be eligible to participate in this study!
Topics of discussion will include:
School attendance or lack thereof
Related services like Physical Therapy, Occupational Therapy, or Speech and Language Therapy,
Emotional well-being,
And communication from your local government/school district.
PLEASE NOTE: This study will be conducted through interviews over Microsoft Teams or Zoom to ensure the safety of all participants.
---
The Development of Spatial Abilities Study at Montclair State University 
The Spatial Development Lab at Montclair State University is recruiting people with Down Syndrome and other intellectual disabilities (aged 12-25 years) to take part in a research study conducted by Dr. Yingying (Jennifer) Yang (Psychology Department). 
Title: The Development of Spatial Abilities 
Who is Eligible? People with Down Syndrome and other intellectual disabilities who are 12 to 25 years old. 
Where? Montclair State University 
Purpose?  We are studying how spatial abilities develop. 
What does the study involve? 
Children will complete some fun computer, board, and paper games. Parents will complete several questionnaires about their child's daily behaviors. It will take 2-2.5 hours with many breaks included. 
Compensation? Your child will receive a small gift and you will receive a $40 Amazon gift card. 
If you are interested in participating, please email us at msuspatialdevlab@gmail.com or self-schedule an appointment on our website https://www.msuspatiallab.com/appointments. Please visit our website to learn more about our research https://www.msuspatiallab.com/. This study has been approved by the Montclair State University Institutional Review Board, MSU IRB #FY17-18-834
---
The Strengths and Challenges of Growing Up With a Sibling with Developmental Disabilities
Posted: January 29, 2020
---
Household Tasks and Parent Expectations for Employment
About the Project: Participants will complete an online questionnaire that should take about 20 minutes. Participants can also choose to take the questionnaire in a paper format that can be mailed to them with a self-addressed stamped return envelope included. We believe the information in this questionnaire will help to identify factors that influence engagement in household tasks and contemplate what schools can do to support parents in involving their adolescent and young adult children in household chores.
Potential Participants:  Parents should consider participating in this study if:
(a) They are the legal parent of a transition-aged youth (i.e. between the ages of 14-22) with intellectual disability, and 
(b) their child currently lives with them.  
If parents meet the criteria for the study and choose to complete the questionnaire, they will have the option to participate in a drawing to receive one of twenty-five $20 Amazon gift cards.
If you have any questions about this study, please contact me at kagentry@illinois.edu. Parents are asked to email me to indicate their interest to receive a link to participate in the study or indicate their preference for a paper format of the questionnaire.
---
Sex Education and Adolescents with a Disability: Parent and Teacher Attitudes and Effectiveness
To Whom It May Concern,
You are invited to participate in a research study on sex education and adolescents with a disability. The purpose of this study is to learn what varieties of topics in sexual education are being discussed or not being discussed with adolescents with a disability. The procedure includes filling out two questionnaires, one related to your child/student's sexual behavior and history of sex education and the other, a demographics questionnaire. These can be completed online from your personal computer or electronic device. The study should take approximately 15 minutes.  The Monmouth University Institutional Review Board approved the study and procedures. The study involves no foreseeable risks or harm to you. However, you may experience discomfort disclosing information about their child or student's sexual history. However, these are not uncommon topics; immediate risks are minimal and are equivalent to the risks that you may encounter in everyday life (i.e., it is common for adolescents be exposed to sexual topics in school or at home). The present study may benefit the field of special education by adding to knowledge about the discussion of sex education with adolescents with a disability. Parents of children with a disability may also benefit from findings of this study to further learn what sex education topics are in need to be discussed with their children. 

You are free to ask any questions about the study or about being a participant by calling me at 732-263-5216 or e-mail: slauderd@monmouth.edu. For questions about your rights as a research participant please contact Deborah Smith of the Institutional Review Board (IRB) by phone at (732) 263-5726 or via e-mail at irb@monmouth.edu.

Your participation in this study is voluntary; you are under no obligation to participate. You may stop answering questions or skip questions at any time if you feel uncomfortable. 
Data will be collected using the Internet; no guarantees can be made regarding the interception of data sent via the Internet by any third party.  Confidentiality will be maintained to the degree permitted by the technology used. The data you provide will be held in the strictest confidence. The completed study will not include individual results or responses. Confidentiality will be maintained. All data will be collected by Stacy Lauderdale-Littin, stored in a secure place and will be destroyed in three years.
To participate, or for more information, click here.
---
Research study of the experiences of fathers of children and youth with complex disabilities (ages 3-21)
Children with complex disabilities are identified within a variety of labels/classifications to include autism, multiple disabilities, and moderate to profound intellectual disabilities. Please take about twenty minutes to complete an on-line questionnaire found at: https://www.surveymonkey.com/r/L5R65HK
There is very little existing research on the experiences of fathers in their children's school settings, particularly fathers of children with disabilities. This survey serves to document your individual responses to this issue. The purpose of this study is to help us understand the experiences of fathers of children and youth with complex disabilities in their children's school experiences.
 This survey is designed to be completed by fathers from a variety of backgrounds and differing experiences and we invite all fathers, step-fathers, or other important father figures who have school-aged children (ages 3-21) with complex disabilities to participate. Your participation is totally voluntary and there is no penalty if you do not wish to participate in this research project.
If you have any questions or desire further information, please contact Dr. Nadya Pancsofar at (609) 771-3150. 
Nadya Panscofar, Ph.D.                     Jerry Petroff, Ph.D.
Assistant Professor                             Associate Professor
(609) 771-3150                                   (609) 771-2308
pancsofa@tcnj.edu                             petroff@tcnj.edu
This research project has been approved by the Institutional Review Board (IRB) at The College of New Jersey.  If you have any questions or concerns about your rights as a participant in this research study, you may contact the IRB at http://www.tcnj.edu/~irb/. Your consent will be indicated by your completion of the questionnaire at THE SURVEY WEBSITE. 
---
University of Delaware's Autism Lab fNIRS Study: Families can participate in a study examining brain activity in infants, children and adults with and without Autism Spectrum Disorder, 3 months to 50 years; when performing various play or functional skills. This study involves 3 visits to our lab in Newark, Delaware. fNIRS is completely safe and non-invasive. A cap with LED lights is placed on the participant's head as he/she completes activities. Payment = $30 total. To volunteer, email abhat@udel.edu or call (302) 831-7608.
University of Delaware's Infant fNIRS Study: Families can participate in a study examining brain activity in 3 to 12-month-old infants with and without risk for Autism Spectrum Disorder as they play with toys and caregivers. This study involves 3 visits to our lab in Newark, Delaware. fNIRS is completely safe and non-invasive. A cap with LED lights is placed on the participant's head as he/she completes activities. Participation payment = $100 ($25 per visit). To volunteer, emailabhat@udel.edu or call (302) 831-7608.
---
Parents of children with autism spectrum disorders (ASD) often struggle with the question of how and when to share information with their child about their diagnosis. As a Developmental Pediatrician caring for many patients with ASD, I have discovered there is very little research about parents' disclosure of the diagnosis to their child.  Families as well as professionals would benefit from a systematic study looking at this issue. Cohen Children's Medical Center of New York is conducting a major national study focused on parents' perspectives and experiences related to sharing information about the diagnosis with their child with ASD.   If you are a parent of a child from 8 to 25 years of age who has been diagnosed with ASD (including Asperger's Disorder or PDD), we would like your input.  We want to hear from those of you who have spoken to their child about their diagnosis as well as those who have not yet had this discussion. Please click on the link below to help other families by participating in this important research study:
This link is to an anonymous on-line questionnaire inquiring about your experience.  The questionnaire will take about 15 minutes to complete. If enough families complete our questionnaire, we hope to:
Have the most representative study done to date based on a large national sample of respondents
Give voice collectively to the experiences of hundreds of families
Provide information to professionals so they can better support families in this process going forward
A few important re-assurances:
Anonymity: All responses are anonymous
IRB Status: Our study has been reviewed by the Institutional Review Board at Northwell Health and approved as an EXEMPT study.  (Letter of exemption available upon request.)
Conflicts of Interest: None
Outside Sponsors or Funding: None
We appreciate your time and consideration.  A copy of our results will be offered to all families who complete the questionnaire.
---
Depression and Sleep Disorders in Adults with Down Syndrome
Kennedy Krieger Institute is recruiting DS subjects age 18-35 years with mental health concerns such as loss of functional skills, low motivation, depressed mood, social withdrawal and motor slowing. We are also recruiting DS subjects without mental health concerns or functional decline.
We cannot accept DS subjects with aggressive, disruptive, or non-compliant behaviors. All subjects will receive a comprehensive evaluation assessing general level of function, behavior and mental health, sleep quality, as well as body shape/proportion and dietary/nutritional status. This study will include a sleep study, collecting urine, saliva, and a morning blood sample for biochemical testing.
The goal of the study is to improve our understanding of the relationship between sleep, stress, metabolism and mental health in persons with Down syndrome. The study requires one extended visit over a 2-3 day period, including 1 overnight visit at the Johns Hopkins Clinical Research Center. There are minimal risks and no direct medical benefits for participating. You will receive medical test results that may be of interest to you or your physician. A cash incentive is offered for your participation. 

We will try our best to accommodate your schedule!
For more information about this study, please contact me:
Noel Grissinger at (443) 923-9140
or by email at grissingern@kennedykrieger.org
---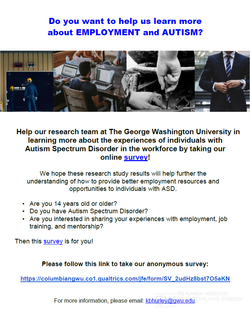 Looking at Early Mentorship and Work-Exposure as Predictors for Type of Employment and Longevity in the Workforce for Individuals with Autism Spectrum Disorder
IRB #: NCR191183 
Principal Investigator: Dr. Maureen McGuire-Kuletz
We are asking individuals with ASD from the ages of 14 to post-retirement age to help us by taking a survey about employment and mentorship. Although there is no direct compensation, we hope this information will help us better understand how to support members of this community gain and sustain employment. The survey is anonymous. If you are a person with ASD, we'd love to hear from you by taking this survey, and/or if you know individuals with ASD who might consider taking this survey, we ask that you please pass this link (https://columbiangwu.co1.qualtrics.com/jfe/form/SV_2udHz8bst7O5aKN) or the flyer attached to them and the organizations with whom you work. 
---
Research Study: Neurodiversity & Participation in the Decision-Making Process
Dear Community members,
We are reaching out to you for help in disseminating the survey among adults with autism/autistic people 18 years and older.
This is the link to the survey: https://osu.az1.qualtrics.com/jfe/form/SV_e2v2GEJz5SoLPcF
The research goal is to measure the characteristics of inclusive participation in the decision-making process. We are asking about past experiences and expectations for the future. This survey far-reaching goal is to help adults with autism to advocate for their needs for inclusive decision-making processes.
Incentives: 
There will be a chance to win in a lottery to get a gift card in participation in the online survey. Opportunities to participate in drawings will be provided to all eligible participants. They will be entered into a drawing for one of "1 of 6" $50 gift cards for Target. A total of 6 cards will be distributed.
By law, payments to participants are considered taxable income. 
---
Research Study: Gender identity development in children and adolescents with autism spectrum disorder (ASD)
In order to examine gender identity development in youth with ASD, researchers at Cohen Children's Medical Center in New York have developed a short anonymous questionnaire for parents of children with Autism Spectrum Disorder. Your responses to this questionnaire are instrumental to better understanding how gender identity develops in individuals with Autism Spectrum Disorder and will help us to better assist individuals with ASD who may have gender-related concerns and their families. 
 
You will find a link to a short, completely anonymous and confidential questionnaire below. It takes 10-15 minutes to complete this questionnaire, and completion is voluntary. This research study has been approved by the Institutional Review Board of Northwell Health, and a copy of this approval is available upon request (aadesman@northwell.edu).  Please note that we first announced this study two years ago; we are currently collecting additional responses in order to answer some remaining research questions.  If you recall previously completing our questionnaire, please do not do so at this time.
 
We thank you in advance for your participation in our study!  Since we are interested in getting as large and representative sample of families as possible for this study, we would be most grateful if you would also forward this e-mail to other parents of children ages 6 – 25 years old with ASD.
Questionnaire link: Click here to complete the questionnaire.
---
Ohio State U - Research on persons with I/DD and mental health challenges
We are doing a research study on mental health treatment for people with intellectual disability (ID). We are doing this study at the Ohio State University. Anyone can be in our study, no matter where you live! In our study, we will meet with a few people with ID on Zoom. We will ask questions about your experiences with mental health therapy. We want to know what it has been like for you!
If you want to learn more, please call Chelsea Cobranchi. Her number is 614-293-9398. Her email is: Chelsea.cobranchi@osumc.edu.
---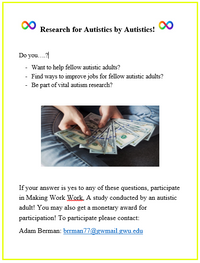 Employment of Adults with Autism
We are conducting a study to explore how self-determination affects the employment of adults with autism and the quality of employment. The purpose of this study is to gain a greater understanding of how teaching self-determination and practicing self-determination impacts employment for adults with autism. We are interested in interviewing and surveying adults with autism who meet the following criteria: (1) are employed or ever have been employed and (2) are 18 years or older. To participate, email Adam Berman at brrman77@gwmail.gwu.edu
---
Optimizing Information Processing In Infants Who Have A Relative With Language Impairment, Dyslexia, ASD Or ADHD
Participants: 4-18 month olds who have a parent or sibling who has been diagnosed with speech/language disorder, reading disorder, Autism Spectrum Disorder or Attention Deficit/ Hyperactivity Disorder
Does auditory training during the first year of life help infants become more efficient at processing the sounds most important for speech and language development? Previous research in our lab has shown that infants who are born into a family with a history of language-based learning problems often process sounds differently from children who do not have a relative with such difficulties. Thus, they are at higher risk of having language-learning deficits themselves. Nonetheless, a longitudinal study completed in our lab demonstrated that early auditory training had a positive impact on the accuracy and speed of discrimination of key acoustic cues that are critical for setting up language and ongoing language development. We are studying how this early listening experience might support and enhance acoustic processing for infants in these higher risk categories, thus optimizing later language outcomes.
Contact us by phone 973-353-3593 or email or complete our convenient online form and we will contact you. We look forward to hearing from you!
---
"Exploring Service Experiences of Survivors of Interpersonal Violence and Individuals with Disabilities"
Dr. Sarah McMahon at the Rutgers School of Social Work is conducting a research study to learn how to better serve individuals with disabilities who
may have experienced violence or abuse by others.
---
SPARK, autism genetic study
 The study is conducted in part by Children's Specialized Hospital and is sponsored by the Simons Foundation Autism Research Initiative (SFARI) 
SPARK is the world's largest autism research community, with a goal of recruiting 50,000 families to participate.
The study is conducted online and individuals and families with an autism diagnosis who live in the United States can register.
Participants will be asked to share information about their medical and family history, as well as to provide a saliva sample for genetic analyses to help speed up research and advance our understanding of autism.  SPARK is analyzing DNA to improve our understanding of the roles that genes play in the development of autism. 
SPARK will provide gift cards for saliva samples in the amount of up to $50, and will provide additional incentives for the completion of online questionnaires. 
Children's Specialized Hospital, is one of 31 SPARK clinical sites across the country.
Participants also have the opportunity to participate in other research studies through SPARK research match if you choose to share your information with the researchers.
To learn more about SPARK, You can visit the SPARK FAQ page at 

www.SPARKforAutism.org/CSH

SPARK research line (908) 301-5958
email: sparkcsh@childrens-specialized.org
---
Virtual Focus Group to Address "Access to Dental Care for People with Disabilities" 
Parents of children with disabilities and adult self-advocates: Have you had difficulty finding oral health services? If so we need your feedback. 
---
Dissertation Survey
We are currently conducting a study examining the early experiences of first and second grade students currently receiving special education and related services in New Jersey. Parents can click on the following link to view the survey: http://ku.co1.qualtrics.com/jfe/form/SV_9zR6bujEVC7OOfH. The survey should take no more than 10 minutes to complete. If you have any questions, or are unable to access the survey, please contact the principal investigator, Angel Mims, mimsa@kean.edu or her faculty advisor, Dr. Keri Giordano, at KGiordan@kean.edu. Click link below for more information.