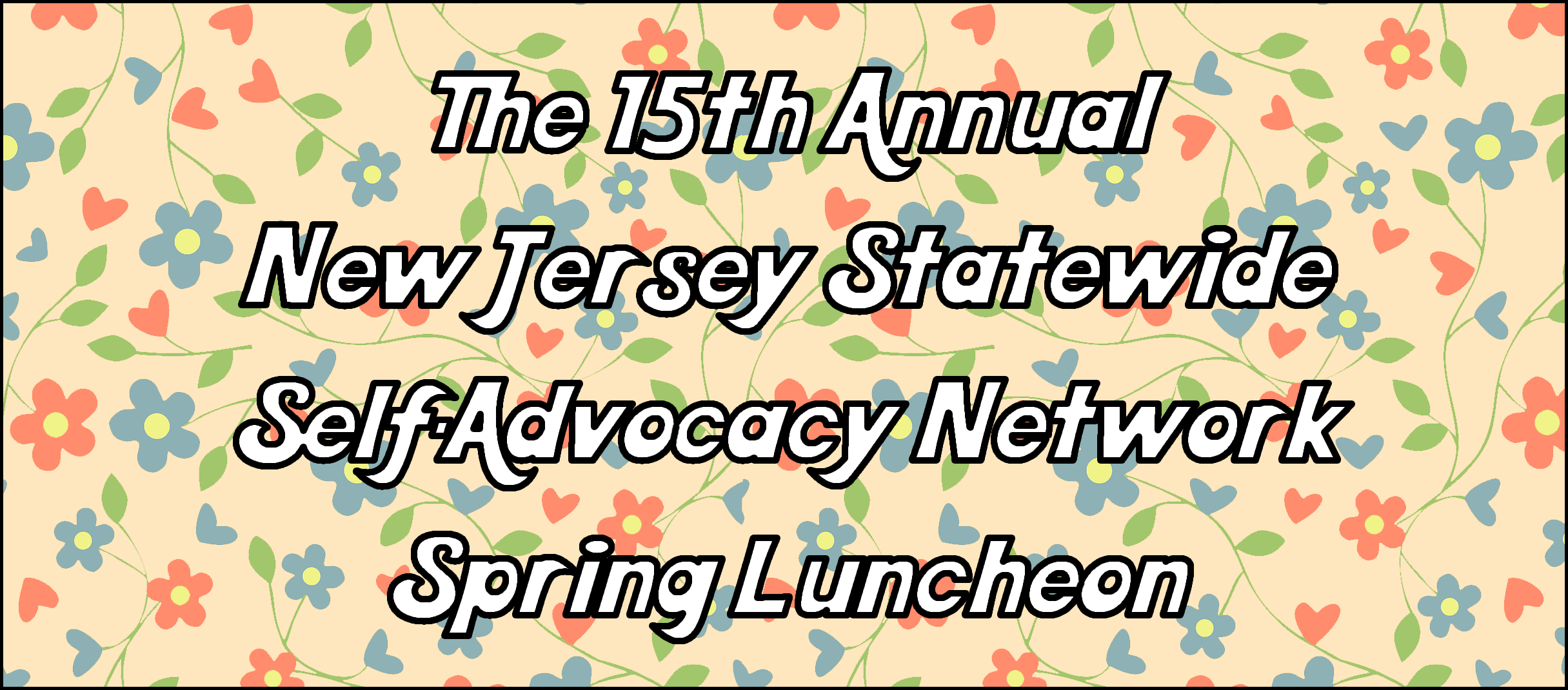 Saturday, April 17, 2021
Thank you for making this a successful event! We hope to see you next year.
You can view the recorded event below.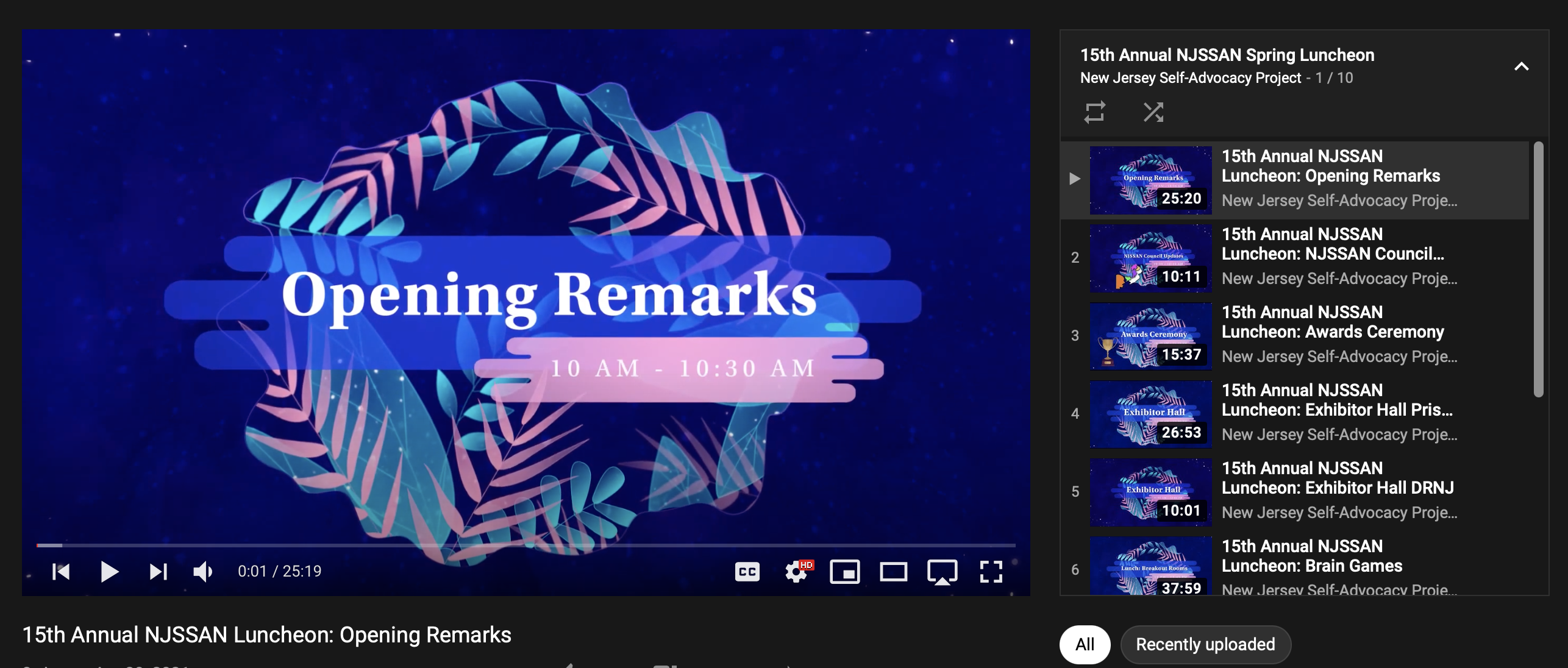 ---
Ad Journal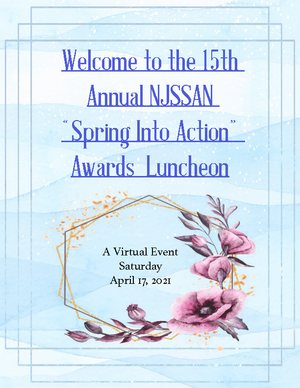 ---
Registration
Registration is now closed as the event has passed.
---
About The Event
Each year, the New Jersey Self-Advocacy Project and the New Jersey Statewide Self-Advocacy Network work together to host the annual Spring Into Action Awards Luncheon. The event is an opportunity for Self-Advocates and Allies to network, learn about current advocacy issues, and celebrate the accomplishments of Self-Advocates over the past year. This year, we will host the Spring Into Action Luncheon virtually! 
Schedule
Signing on before 10:00 AM will put you in the virtual Waiting Room until the event begins.
 
10:00 AM - 10:30 AM: Opening Remarks

Includes a special video message from Senate President Stephen M. Sweeney 


 

10:30 - 10:45 AM: NJSSAN Council Updates
 
10:45 - 11:15 AM: Awards Ceremony
 
11:15 - 11:30 AM: Fifteen Minute Intermission
 
11:30 AM - 12:00 PM: Exhibitor Hall
 
12:00 - 12:45 PM: Lunch with 3 Breakout Room options
1. "Brain Games Room": Participants can play a fun game (Hey Robot) led by an NJSAP team member or simply spectate.
2. "Icebreakers & Networking Room": Socialize and network with ice breakers led by an NJSAP team member.
3. "Zen Room": Featuring mellow music and guided meditation using food prompts. Feel free to just relax here.
12:45 - 1:45 PM: Inclusive Dance Class led by Helene Lynch and Jean Anne Principato with "Look Who's Dancing"
 
1:45 - 2:00 PM: Closing Remarks
---
Sponsorship
As a nonprofit organization, we depend upon the generous support of sponsors to make this event a reality. Sponsors will be featured in our digital ad journal and all promotional materials for the event. 
Please review the information below regarding the various sponsorship opportunities, which directly support people with intellectual and developmental disabilities. As a 501(c) (3) nonprofit organization, all monetary donations made to The Arc of New Jersey are 100% tax deductible.  
Fill out the online form below to sponsor the event.
If you prefer to pay by check, please fill out the downloadable form below and email it to NJSAP@ArcNJ.org. 
Please make all checks payable to The Arc of New Jersey and kindly note "2021 Luncheon Sponsor" in the memo line. You can mail the check to:
ATTN: New Jersey Self-Advocacy Project, 985 Livingston Avenue, North Brunswick, NJ 08902. 
Available Sponsorships
Ad Journal Full Page: $600: Your logo and message will be featured in our virtual ad journal. Size: 8.5" x 11", color
Ad Journal Half Page: $300: Your logo and message will be featured in our virtual ad journal. Size: 8.5" x 5.5", color
Breakout Sessions: $1500 (3 available): Your logo will be featured in the ad journal, social media promotions, and luncheon promotions preceding/during the event 
Exhibitor Hall: $250: Attend our exhibitor hall and engage our guests with your information and resources during the scheduled Exhibitor Hall session of the event.
If you choose to sponsor the event, please send your logo (and ad if applicable) to NJSAP@ArcNJ.org by April 5, 2021.