The 35th Annual New Jersey Statewide Self-Advocacy Network Fall Conference will take place on Saturday, September 29th at The Westin Princeton.
Registration is now closed.
To get more information about the event, click here!
---
The New Jersey Self-Advocacy Project was established in 1983 in to challenge individuals with intellectual and developmental disabilities to become involved in events, legislative policies, and issues that positively affect their lives or lives of others with disabilities.  Together we form The New Jersey Statewide Self-Advocacy Network (NJSSAN), which is used as means of supporting positive change on both a personal and social level.  The NJSSAN consists of five Councils based on geographic location within the state.
The Councils meet on a monthly basis and are open and free to all individuals with disabilities.  To see the location of each council and the date for our monthly meetings, please take a look at our calendar displayed below. The New Jersey Self-Advocacy Project Team collaborates with the Council chairperson to create an agenda based on what the self-advocates wish to discuss.  These meetings are a chance for advocates to voice their perspective, socialize, and to practice standing up for themselves and their rights.
Self-Advocates testify in Trenton regarding budget decisions and legislation, and they also celebrate and raise awareness during Disability Awareness Month in March.  They write letters to people of prominence and elected officials applauding decisions or weighing in on issues.  Advocates give input on many of the Division of Developmental Disabilities policy issues that affect their lives.  During Americans with Disabilities Awareness Month (ADA) in July, self - advocates speak with beach-goers on the Point Pleasant boardwalk about the importance and meaning of ADA.  Finally, they come together as a network for an annual luncheon and conference.
During the year, self-advocates are invited to attend Healthy Lifestyles workshops, planning and leadership discussions, voting workshops, maintaining healthy relationship activities, workshops about advocating for your employment rights, and many other seminars and training, as requested by agencies and individuals.
---
2018 Council Calendars
The New Jersey Statewide Self-Advocacy Network (NJSSAN) is made up of 5 regional Councils. All adults with intellectual and developmental disabilities are welcome to attend NJSSAN Council meetings. We encourage and challenge group members to learn about their rights, get involved in advocacy events, and speak out about issues that affect their lives.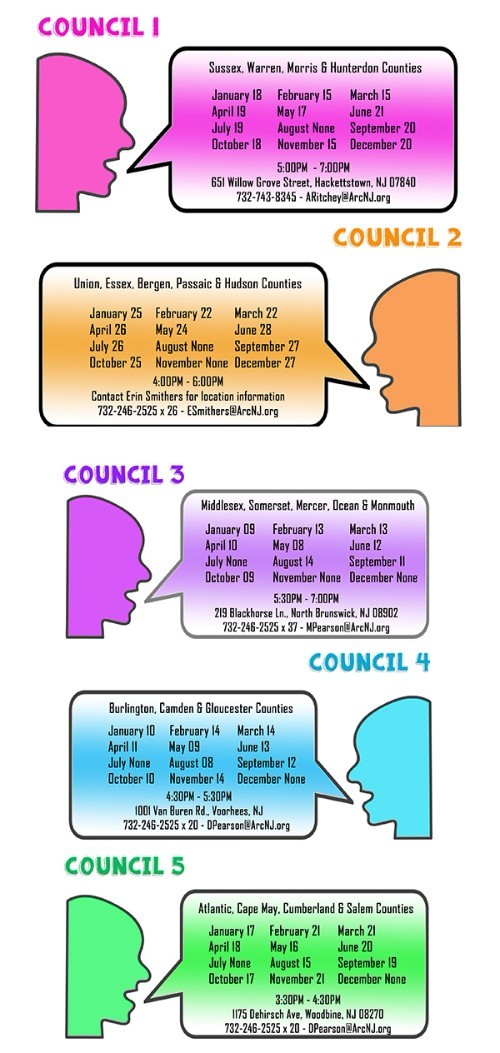 ---
Photo Galleries from Past Events!

Interested our Health and Wellness program?
Find out more about the Healthy Lifestyles Project!
NJSAP Publications
The Self Advocate:  A bi-annual newsletter produced the New Jersey Self Advocacy Project (NJSAP) team. The Self Advocate contains registration information for  two major events hosted by the New Jersey Statewide Self Advocacy Network: the Fall Conference and the Spring Into Action Luncheon.  The publication also contains information about monthly meetings, training and educational opportunities, as well as legislative advocacy efforts.
Advocacy Matters: A monthly e - newsletter geared to providing self - advocacy group advisors and network members with training tips and information about upcoming events, along with features of the most recent advocacy activities hosted by members of the New Jersey Statewide Self Advocacy Network, (NSSAN).
For further information, check out these helpful handouts!