Upcoming Events
Mondays with Michael
Mondays with Michael is a weekly chat on Facebook Live about a topic related to special education. 
There's no need to register. Tune in every Monday at 10am 
Counseling in School - March 27th

Employment Services in School (with Project HIRE) - April 3rd

My Child is Falling Behind Socially - April 10th

Extended School Year (ESY) - April 17th

Out of District Placement Pros and Cons - April 24th

College Programs in New Jersey - May 1st

Creating a Summer Plan - May 8th

2023 Camp Guide from The Family Institute - May 15th

Self-Advocacy for Students (with The New Jersey Self-Advocacy Project) - May 22nd

MAPS Club (with Planning for Adult Life) - May 29th

Fact Sheets and Go-Bags for Parents (with The Family Institute) - June 5th

My Child Starts Kindergarten Next Year - June 12th
---
Special Education Webinar Series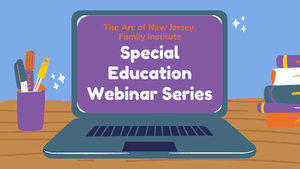 Upcoming Webinars​​​​
Out-of-District Placement with Hinkle, Prior & Fischer        
Tuesday, March 7th, 6:00 - 7:00pm 
Often times, new school districts will reconsider a student's out-of-district placement in favor of local public programs. Parents need to know their child's rights when services change, are cut back, limited or otherwise modified. In this workshop, parents will learn how placement decisions are made, what the important timelines are in the special education system, and the "Stay Put" provision of the law.
An Overview of the New Jersey Department of Education's Transition Toolkit    
Tuesday, June 6th, 1:00 - 2:00pm 
This presentation will provide an overview of the resources available through the New Jersey Transition Toolkit located on the NJ Department of Education Website. The Transition Toolkit can help parents and professionals understand their role in preparing children for life after high school and also contains information about state agencies that can assist in transition.
---
Past Webinars
February 7, 2023 - Isabel Mavrides-Calderon: Advocating for Your Own Education: Slides | Recording 
---
Thanks to a generous donation from Raising Hope for Others, The Arc of New Jersey hosted its second Family Day Out at ShoreTown Ballpark. Families of The Arc enjoyed a beautiful afternoon cheering on the Jersey Shore BlueClaws.