Protect the Lifeline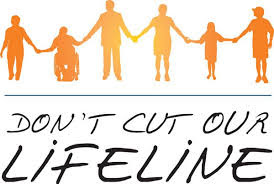 Latest News and Updates:
On Friday March 24th, Speaker Paul Ryan announced that the House of Representatives would not be voting on the American Health Care Act, which would have had devastating impacts on people with intellectual and developmental disabilities. We thank everyone who weighed in and made their voice heard. Your efforts made a difference and now we need you stand with us again. Renewed talks about the American Health Care Act are ongoing in our nation's capital. Check out recent action alerts below and make sure you weigh in with your federal representatives in opposition to these proposed changes.  
---
About this Issue:
Medicaid, the Affordable Care Act (ACA), Supplemental Security Income (SSI), Social Security, Medicare and civil rights laws like the Americans with Disabilities Act (ADA) are lifelines for people with I/DD and their families, providing benefits, supports, and civil rights protections that help make community living possible.
In 2017, The Arc calls on all advocates to join us in reaching out to the President and Congress to educate them on the importance of these lifelines and to urge them to preserve – not cut -- these essential programs and civil rights laws.
These federal programs provide the key to community living and inclusion for people with I/DD across the nation. Now more than ever, we must join together as a collective movement to ensure that our lifeline programs and civil rights are protected.
On this page, you'll find resources for education and advocacy. Check back often, as we'll be adding new tools throughout the year. 
Sign up for The Arc's Disability Advocacy Network to stay informed and know when to take action when it counts!
---
Fact Sheets on the Issues
---
Tools for Getting Involved
---
Action Alerts
---
Other Items