---
The Arc of New Jersey is looking for motivated individuals with developmental disabilities for a work based learning experience in Monmouth County.  Selected candidates participate in internships located within law enforcement agencies overseen by a "Cadet Mentor."  This mentor is a designee working for the municipality who determines and assigns tasks for the cadets to complete throughout their shift. 
Tasks are individualized and are not limited to but can include anything from maintaining files to assisting departments with community outreach. Additionally, eligible cadets receive guided employment instruction to help them connect with their ultimate goal, competitive employment in their community. Currently, the internships take place four days per week, 4 hours per day.   This program is currently only available in Monmouth County.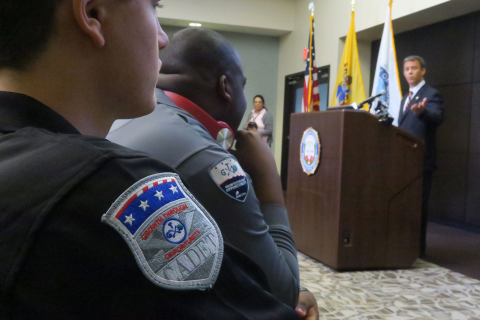 Interested in participating?  Young adults, families, schools & law enforcement agencies are encouraged to inquire more about our program. ** Please note, this program is currently only available in Monmouth County.
Eligible candidates will meet these minimum requirements:
Seeking competitive employment in the community

18 years of age or older

Willing to complete a background check and/or drug testing

Have access to reliable transportation

New Jersey resident
No previous work experience is required.  All apprenticeships are done at law enforcement agencies.
---
View press coverage from our exciting kickoff event!