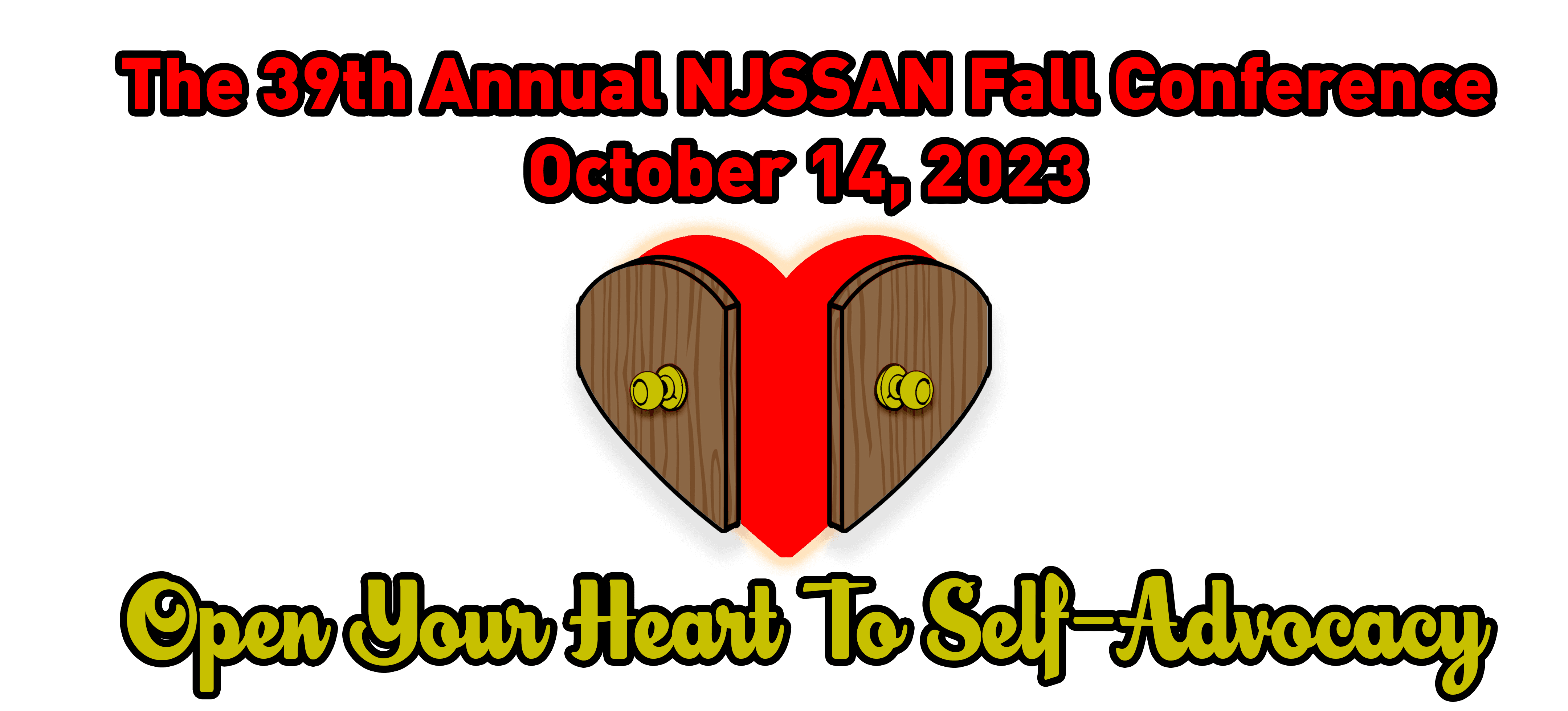 ---
Saturday, October 14, 2023
9:30 AM - 12:30 PM

Virtual Event on Zoom with In-Person Watch Parties
---
About The Event
Each year, the New Jersey Self-Advocacy Project (NJSAP) and the New Jersey Statewide Self-Advocacy Network (NJSSAN) work together to host the annual Fall Conference. The event is an opportunity for Disability Advocates to network, learn about current advocacy issues, and attend professional development workshops. 
The theme of our 2023 conference is "Open Your Heart To Self-Advocacy''. The NJSSAN will to take this opportunity to highlight the skills and experience of its current members. For the second time, NJSSAN Board members will serve as the event's Keynote Speakers.
Click here to download and share a flyer for the event.
---
Online Registration
Watch Parties will be held at the following counties, hosted by local Chapters of The Arc. These are open to all who register and will provide a space to watch the event on Zoom while enjoying refreshments and networking with other self-advocates. Prices will vary by location and tickets are limited.
Atlantic County
Romanelli's Garden Café
279 South New York Road Galloway, NJ 08205
Bergen County
17 Wallace Street, Elmwood Park, NJ 07407
Ocean County
393 Mantoloking Road, Brick NJ 08723
Somerset County
Jill Court Day Program
3 Jill Court, Building 15
Hillsborough, NJ 08844
Sussex County
Hampton Community Center
4 Camre Drive, Newton, NJ 07860
---
AB Fundraiser
The Advisory Board of the NJ Statewide Self-Advocacy Network (NJSSAN) is holding a t-shirt fundraiser through Bonfire.com
If you'd like to purchase a shirt to commemorate the event and support the NJSSAN, click here!
All funds raised directly benefit the NJSSAN, New Jersey's largest self-advocacy organization.
Shirts are $25 each and will be shipped directly to you! The Premium Unisex Tee is a standard fit crewneck t-shirt. Typically made with a 60/40 blend of cotton and poly that is combed and ringspun, it is a lightweight tee with a super soft feel. It comes in sizes XS-4XL.
PLEASE NOTE: Shirts are only available for purchase online.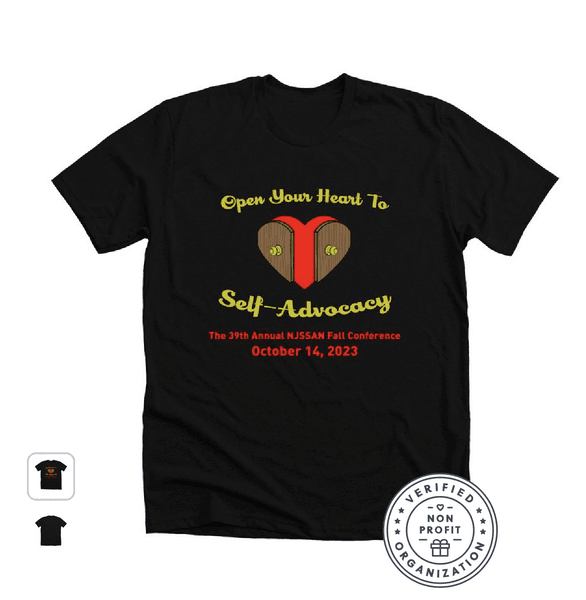 ---
Sponsorship
There is no charge to attend this event virtually. As a nonprofit organization, we depend upon the generous support of sponsors to make this event a reality. Sponsors will be featured in our digital ad journal and all promotional materials for the event. Please review the information below regarding the various sponsorship opportunities, which directly support people with intellectual and developmental disabilities. As a 501(c) (3) nonprofit organization, all monetary donations made to The Arc of New Jersey are 100% tax deductible.  
Available Sponsorships
Ad Journal Full Page: $600: Your logo and message will be featured in our virtual ad journal. Size: 8.5" x 11", color
 
Ad Journal Half Page: $300: Your logo and message will be featured in our virtual ad journal. Size: 8.5" x 5.5", color
 
Keynote Speakers: $500: Your logo will be featured in the ad journal, social media promotions, and luncheon promotions preceding/during the event. These funds make it possible to provide a keynote speech designed specifically for self-advocates to all conference attendees free of charge during the event.
 
Exhibitor Hall: $250: Engage our guests with your organization's information and resources during the Virtual Exhibitor Hall. 
If you cannot attend the live event, Exhibitor Hall Sponsors are invited to share a pre-recorded video and/or digital resources in advance for distribution to attendees. If attending the live event, we strongly recommend preparing a slideshow to present during your organization's portion of the 30 minute session.
 
Technology Fund: Custom Donation Amount: You can donate an amount of your choice to our technology fund. These funds help to ensure the conference is a high quality, streamlined, and accessible virtual event.
Fill out the online form below to sponsor the event.
If you choose to sponsor the event, please send your logo (and ad if applicable) to NJSAP@ArcNJ.org by October 2, 2023.