About HLP
The Arc of New Jersey and the New Jersey Self-Advocacy Project are very pleased to receive a $25,000 grant from The Horizon Foundation for New Jersey to fund the Healthy Lifestyles Project. This is the 8th year we have received this funding for this very special project and we are grateful to The Horizon Foundation for New Jersey as these monies will help adults with intellectual and developmental disabilities learn how to live a healthy lifestyle through diet, exercise and stress management.
A grand total of 52 webinars and 408 virtual HLP events were held in our Jan. 2022-Dec. 2022 grant cycle, reaching a total of 21,091 people!
---
HLP Live
Sign up for our HLP Live events for guided events relating to health and fitness for adults with IDD. The last event of the month even includes supplies shipped for FREE to your location! There will be an HLP:Live each Wednesday at 11AM, but the final event of the month has a capacity limit, so register quickly!
Testimonials:
"I just wanted to thank you for your patience and great information with these sessions. Every Wednesday we are virtual and usually do a movie and/or cooking lesson with our students and your activities have added such a great element for us! We are so impressed by your level of patience and engagement and thank you for that. It is wonderful to have community resources like this to enhance what we do in the classroom and virtually. Looking forward to many more Zoom activities!"
Tara V., Special Education Teacher
"The team at the New Jersey Self-Advocacy Project has been a pillar of support for the DDD community well before COVID-19 began affecting services. However, since services including congregate day programs have been drastically altered following the inception of the pandemic, NJSAP has continued to provide essential, quality content via social media and online platforms. Ashley Ritchey, Director of NJSAP, has graciously provided weekly, live trainings to self-advocates at SCARC, Inc. as part of a newly implemented program called "Day Hab Goes Digital". Her training topics have included aromatherapy, outdoor safety, advocating for yourself, and the ADA. In addition to this content, Ashley's team continues to deliver informational and interactive videos on their social media accounts to promote physical, mental, and emotional wellbeing. This content has allowed SCARC participants to remain connected and informed throughout the duration of social distancing. SCARC, Inc. is tremendously grateful for the important work that the New Jersey Self Advocacy Project does." –Brooke U.
---
Follow Along Online!
We post videos on our social media pages during the week to help you live healthy at home! Follow along with workout routines, nutrition tips, healthy recipes, music therapy, art projects and more! Follow us on Twitter, Facebook, Instagram, and Youtube to get them directly to your feed.
We're working with some amazing guests to get even more healthy guides to your screens!
On Mondays, we post videos from Veronica (Vero Pure Green), typically on health and nutrition.
On Tuesdays, we post music therapy videos by Joanna Tan.
On Wednesdays, we post videos from Matt and others at In-Home Personal Training, typically on workout routines.
On Thursdays, we post videos from artist and education Malik Whitaker about art.
On Fridays, we post videos from NJSAP Team member Erin, who provides step-by-step recipe instructions.
Testimonials:
"I like being a part of the self- advocacy group and all of the activities hosted by the NJ Self-Advocacy Project." - Jenn M.
---
Webinars
We find it important to keep nurturing our connections with you and branching out in ways that help us all continue to grow.
We will be presenting webinars every Tuesday at 2 PM on a variety of topics relating to self-advocacy and healthy living. The first Tuesday of the month is a new webinar followed by replays of previous webinars the rest of the month.
Live viewers will be able to share comments and ask questionsduring the webinar. All webinars will be recorded and archived on our website to view after airing.
Click here to register and/or view past webinars.
Testimonials:
"NJSAP's Stay Healthy at Home webinars have been helpful to me because they are informative, timely, and I love to learn. The webinar on the ADAand the webinar on voting were particularly helpful because I don't know much about the ADA, and I was trying to figure out how the whole vote-by-mail thing worked. I often share information and resources from NJSAP on my social media accounts with friends and family who also really appreciate the information. You are helping more people than you think outside the NJSAP community. Keep up the great work!" - Julia S.
---
Trainings
All HLP in-person trainings are currently postponed due to COVID-19 concerns, but are scheduling virtual group trainings! Fill out our training form here.
Be sure to check out our Youtube page and Facebook, Instagram, TikTok, and Twitter for training videos as well as healthy activities and tips! You can also register for our webinar series and view past videos here.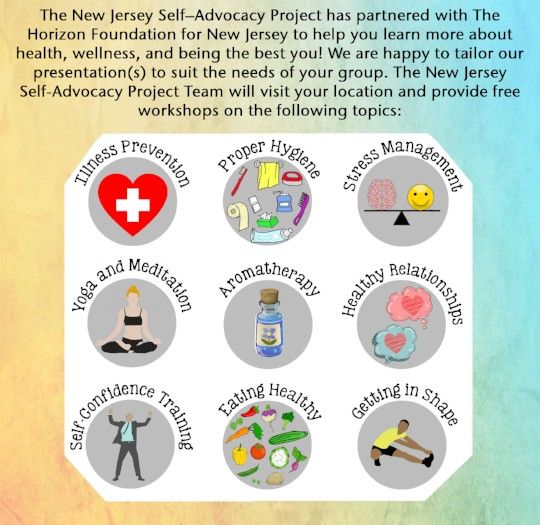 ---
Positive Pulse E-Newsletter

The Positive Pulse e-newsletter is sent monthly to our network with advice and resources on living a healthier life. Click here to sign up or send us an email at NJSAP@ArcNJ.org. You can find previous and current issues below.
Positive Pulse- All 2018 Issues2018 Topics Include: Emergency Preparedness, Workplace Wellness, Diabetes Awareness, Winter Wellness, Creative Arts Therapy, Heart Health, Nutrition, Sexual Assault Awareness, Mental Health Awareness, Outdoor Safety, Friendship and Socializing, Kindness

Positive Pulse- All 2019 IssuesNew Year's resolutions, Healthy Snacking, It's Easy Being Green, Misconceptions about Staying Healthy, Bicycling, Pets, Parks and Recreation, Aromatherapy and Essential Oils,Yoga, Dental Hygiene, Holiday "Stuff", Trying New Things

Positive Pulse- All 2020 IssuesTopics: Tea, Laughter, COVID-19: At Home Activities & Understanding and Compassion, Listening, Gratitude, LGBTQIA+ Pride, Fitness/Nutrition Tracking, Water, Halloween, Myth Busting, Thanksgiving, Cold Weather

Topics: Preventative Healthcare, Birds, Languages, Spring Safety, Healthy Beverages, Magic of Music, Summer Safety, Eyes and Vision, Change of Seasons/Dealing with Change, Bone Health, Smart Shopping, Health Advocacy

Topics: Self-Care, Healthy Hearts: Health and Relationships, Now or Later: Procrastination and Seize the Day, Saving the Planet: Earth Day and Superheros, Living with Allergies/Allergy Alternatives, Summer Grilling Tips and BBQ Recipes, Hot Weather Insects & Illnesses and Accidents, Summer Nights: Healthy Habits and Star Stories, Lean on Me: Support Systems, Workplace Wellness, Fall Foliage, Healthy Holidays-Mental Health/Physical Health
---
Brain Games
Get your thinking caps on!
Each week, we present a party game on Zoom for you to play along with us on your phone, tablet or computer! We begin the live stream at 1 PM and we play through a few rounds of the chosen game of the week. Be sure to join us at 1 PM every Thursday! Visit our Brain Games page to see what we're playing this week and for the join link!
"The New Jersey Self-Advocacy Project's Brain Games has helped me stay busy and participate more. I am still able to fulfill my responsibilities as Secretary of Council 3 by attending virtual meetings, taking minutes, and recording the proceedings so I can stay involved." - Anita C.
---
Events
In addition to trainings, many events are held as part of The Healthy Lifestyles Project. These events are scheduled throughout the state year round to promote healthy living though clean eating, exercise and relaxation. To view images from past events, take a look through the gallery below. Photos and videos are also routinely posted on our social media pages!
There are currently no in-person events, but we will let you know when they resume. For now, join us in our virtual programming!
Bookmark this page, join our mailing list, and follow us on social media to keep up with new HLP events!