Mainstreaming Medical Care
Beverly Roberts, Director
The Arc of New Jersey's Mainstreaming Medical Care Program promotes quality health care for people with developmental disabilities throughout New Jersey. Click here for the program brochure.
---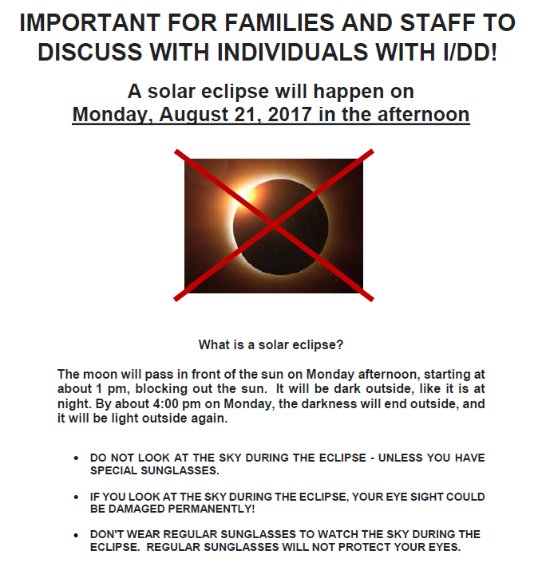 ---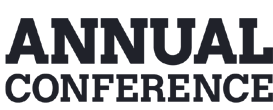 The 28th Annual Conference on Medical Care for Persons with Intellectual & Developmental Disabilities 
                                  June 2, 2017
More than 330 people and 32 exhibitors filled the Westin Princeton at Forrestal Village for the 28th Annual Conference on Medical Care for Persons with Intellectual and Developmental Disabilities on Friday, June 2. The conference is geared toward those interested in providing quality healthcare to individuals with intellectual and developmental disabilities.The event included opening remarks from DHS Commissioner Elizabeth Connolly, an update from Meghan Davey, Director of the NJ Division of Medical Assistance and Health Services, and Darlene Yannetta, Director of Provider and Constituent Relations for the NJ Division of Developmental Disabilities, a morning and afternoon keynote presentation, and a number of workshops covering a broad range of healthcare topics.
The IDD Toolkit: Working Together to Improve Health Care for Adults with Intellectual and Developmental Disabilities
The morning keynote speaker Janet Shouse, Program Coordinator, Vanderbilt Kennedy Center in Nashville TN, introduced to the attendees 'The IDD Toolkit', featuring an online resource for health care providers, families and caregivers to help clinicians better serve adults with I/DD.  The tools, based on consensus guidelines from Canada and adapted for use in the U.S., provide information regarding the special physical and mental health needs of adults with I/DD, including Health Watch Tables for several disorders and genetic syndromes. The website, www.iddtoolkit.org, offers online training for health care providers, families, individuals, and caregivers, such as direct support staff. Downloadable slides from the presentation: Improving Access to Health Care for People with Disabilities with the IDD Toolkit.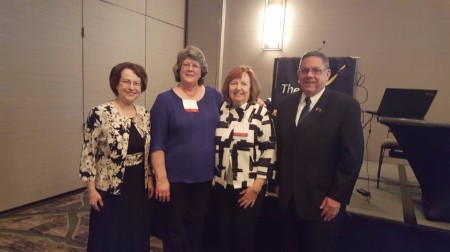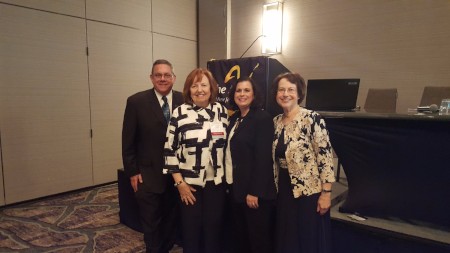 ---
         NJ FamilyCare Renewal Application Information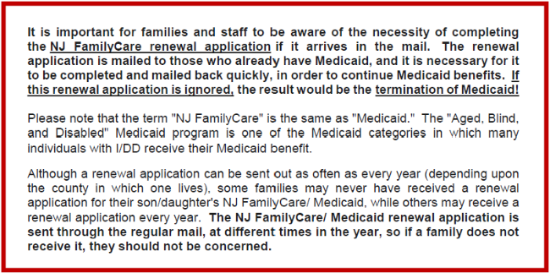 ---

DDD Updates
Accessing DDD Services When an Individual with an Intellectual & Developmental Disability Turns 21 and is Still in School
Be prepared to access all available services from DDD at age 21 and after leaving school. 
"How do I access services that had been provided through PerformCare, when my child turns 21?"
Click below for information on the steps to follow when requesting access to certain services from DDD at age 21 and before leaving school. 
                                         __________________________________
If Receiving DDD-Funded Services - The NJ CAT Must be Completed by July 31, 2017
With the March 30 approval of its Community Care Waiver renewal, the Division is now moving toward full implementation of the Medicaid-based fee-for-service system, under which completion of the New Jersey Comprehensive Assessment Tool (NJ CAT) is required for individuals receiving Division-funded services in the new system.
Since 2015, the Division has sent multiple notifications regarding mandatory completion of the NJ CAT to individuals who receive or are eligible to receive Division-funded services. This week, a FINAL NOTIFICATION letter will be sent to individuals currently receiving Division-funded services and residing in their own home or with family who have not yet completed the NJ CAT.
To prevent discontinuation of Division-funded services, the NJ CAT must be completed by July 31, 2017.
Instructions for submitting a request to complete the NJ CAT
                                           __________________________________
Clarification on the PPP program and a parent/guardian being employed to provide the PPP services
Please see below for an update from DDD pertaining to the new fiscal intermediary, Public Partnerships.  In particular, there has been some confusion recently with regard to the Personal Preference Program (PPP) and the Public Partnerships procedures.  Questions were raised as to whether or not there will be any changes in the individual's parent or guardian being able to continue to provide services through the PPP process.  It should be noted that PPP services are approved through the NJ Division of Disability Services (DDS) and the individual's Medicaid HMO.  (​The approval for ​PPP services ​is​ completely​ different from the self-directed services that are available through DDD.)
The good news is that parents/guardians can continue to provide PPP services for their son/daughter, as they have done in the past.   
This is the relevant wording​ on the issue of parents providing their son/daughter's PPP services, copied​ from the Division Update below:
​"​Clarification on Hiring a Parent/Guardian as a Self-Directed Employee (SDE) Under the New Fiscal Intermediary"
·  DDD: Individuals participating in the DDD Self-Directed Employee option had not been able to employ a parent, guardian or spouse to provide DDD services under the old fiscal intermediary (Easter Seals) and will not be able to employ a parent, guardian or spouse to provide DDD services under Public Partnerships.
·  PPP: Individuals participating in the DDS Personal Preference Program (PPP) had been able to employ a parent or guardian to provide PPP services under the old fiscal intermediary, and will continue to be able to employ a parent or guardian to provide PPP services under Public Partnerships.
If you are interested in further information on the Personal Preference Program, see this link:  http://www.state.nj.us/humanservices/dds/services/ppp/
---
Voluntary Enrollment in Managed Care Plans for Persons Who Have Both Medicare and Medicaid
New Jersey Medicaid has provided a helpful list of frequently asked questions (FAQs) on the 2017 managed care plans that were developed specifically for persons who have both Medicare and Medicaid (the dual eligibles). These managed care plans are known as either "dual eligible special needs plans" (D-SNP) or "fully integrated dual eligible special needs plans" (FIDE SNP).  These terms can be used interchangeably.  
Please note that enrollment of dual eligibles into these managed care plans is voluntary. However, New Jersey's dual eligibles are still required to be enrolled in a Medicaid HMO.  If it is decided that dual eligibles should not be enrolled in a FIDE SNP or D-SNP, then they will remain in what is known as "Original Medicare" and a Medicaid HMO.
NJ Medicaid has prepared a chart that shows which FIDE SNP health plans have been approved for specific New Jersey counties.  This chart is helpful since none of these FIDE SNP plans have been approved in every county.  There is only one New Jersey county (Cape May) that does not have any FIDE SNP health plans. To see the New Jersey FIDE SNP County service areas, click here. 
To see all of the questions and answers that NJ Medicaid has developed on these managed care plans, click here.
FIDE SNP enrollment will be voluntary - not mandatory!
We are delighted to announce that the New Jersey DHS has decided to eliminate this proposal from the Comprehensive Medicaid Waiver.  Now, instead of a mandatory enrollment, dually eligible individuals will have a CHOICE about whether to enroll in a FIDE SNP.
Throughout the last few months, The Arc of New Jersey took a leadership role on this important issue, with a wide dissemination of our Action Alert, which included information on the FIDE SNP proposal. In addition, we raised our concerns on this matter to DHS representatives during a listening session in August. We have been told that DHS received many comments on the proposed Waiver, and a large number of parents with adult children with I/DD expressed their strong concern about the proposal for mandatory enrollment of dual eligibles into a FIDE SNP. Your letters and e-mails were very powerful in convincing NJ DHS to change this proposal!  We thank NJ DHS for their responsiveness to our concerns and for making this important change. The Waiver was recently submitted to the federal Centers for Medicare and Medicaid Services (CMS).
---
Current Healthy Times Newsletter:
      In this Issue:
Voluntary Enrollment in Managed Care Plans for Persons Who Have both Medicare and Medicaid (FIDE SNP)
The Arc of New Jersey's Annual Awards Event 
How Staff in a Medical Group Home Saved my Brother's Life
The Arc of New Jersey / Fact Sheet on Medicaid & Private Health Insurance
The Arc of New Jersey / Assistance with Medicaid Eligibility & HMO Issues
Fall Prevention: An Important Aspect in the Overall Plan of Care of Individuals with Developmental Disabilities (DD)
New Fact Sheet: Medicare Part D - 2017 Transition Rights
Past Healthy Times Newsletters: 
---
New Jersey 2017 SSI Payments
Think www.socialsecurity.gov first!!!
Join the Millions! Create your own my Social Security account
at www.socialsecurity.gov/myaccount.
Based on information from the Bureau of Labor Statistics, the 2017 COLA is 0.3%.  The SSI federal benefit rate for an individual is increasing to $735 and the SSI federal benefit rate for an eligible couple is increasing to $1103.00. There are no changes to New Jersey's optional state supplement payments.  These payments remain the same for each living arrangement category.     
The 2017 New Jersey Supplemental Security Income Payment chart is attached. 
NOTE: Not all SSI recipients receive the amounts indicated on the attached chart. Individual payments vary based on Living Arrangement and Other Income.
The SSI resource (or asset) limits have not changed. It is still $2000.00 for an individual and $3000.00 for a couple. A resource is money as well as something that you own and can turn into cash. Examples of resources are property, stocks, bonds, and bank accounts.
Get your free personal online my Social Security account today!
You probably plan to receive Social Security/SSI benefits someday. Maybe you already do.
Either way, you'll want a my Social Security account to:
Keep track of your earnings and verify them every year;

Get an estimate of your future benefits if you are still working;

Get a letter with proof of your benefits if you currently receive them; and

Manage your benefits:

Change your address; and

Start or change your direct deposit.
To view your most recent Statement, please visit www.socialsecurity.gov/signin and sign into your account.
With instant access to your Social Security Statement at any time, you will no longer receive one periodically in the mail, saving money and the environment. If you have not created your own personal account, please see the How to Create an Online Account, to help you, your clients and staff with the registration process. At each stage of your life, my Social Security is there for you. Your personal online my Social Security account is a valuable source of information beginning in your working years and continuing throughout the time you receive Social Security benefits.
Setting up an account is quick, secure, and easy. Join the millions and create an account now!
www.socialsecurity.gov. From applying for disability, retirement, Medicare or spouses benefits, to obtaining a proof of income letter, changing an address or phone number, getting a replacement Medicare card or a Social Security Benefit Statement, Social Security's website can save you and your clients a lot of time.
Downloadable PDF Documents:
---

The 2017 Medicare Part D Changes for Persons Who Have Both Medicare and Medicaid
Beginning on January 1, 2017, there will be changes in Medicare Part D, the federal drug benefit that is used by most dual eligibles (persons who have both Medicaid and Medicare) to obtain their prescription medications. 
This webinar is for everyone who wants to know about Medicare Part D for the dual eligibles, including employees of provider agencies serving people with Intellectual and Developmental Disabilities (I/DD), staff from DDD, family members, and health care professionals. The webinar will discuss the details of the changes and how they will affect individuals with developmental disabilities who are eligible for both Medicare and Medicaid.
PDF Slides- 2017 Medicare Drug Benefit Changes for Dual Eligibles (Bev Roberts)
PDF Slides- Navigating Drug Plan Finder (Mary McGeary)
Important Information on the 2017 Medicare Part D Drug Plan for Dual Eligibles
2017 Medicare Part D Stand Alone Prescription Drug Plans Chart for NJ
Helpful Information on NJ Medicaid:

The Arc of NJ's: Medicaid Eligibility Problem Form: (Revised January 2107) Family members and staff may use this form when a person with an intellectual and developmental disability is having difficulty obtaining Medicaid.
The Arc of NJ's: Medicaid HMO Problem Form Report:  Family members and staff may use this form if an individual is currently enrolled in a Medicaid HMO and is having difficulty obtaining a medical, dental, or behavioral health service that should be covered by the HMO.  This form can also be used with the HMO has reduced the approved number of hours of a service (e.g., person care assistant services or private duty nursing). 

Section 1634 of the Social Security Act - Disabled Adult Child (DAC) flyer: This important flyer, developed by the NJ Department of Human Services, is applicable for persons with a disability who have Supplemental Security Income (SSI).  When the individual's mother or father retires, or if the parent becomes disabled or dies, this flyer describes the process by which the "disabled adult child" (DAC) can continue to receive Medicaid. However, if the process described in this flyer is not followed, the DAC would likely lose Medicaid benefits and, therefore, access to DDD services would also be jeopardized. 

Section 1619(b) of the Social Security Act - SSI and Continued Medicaid Eligibility: This important flyer, developed by the New Jersey Division of Developmental Disabilities, describes the process by which individuals who are employed and are eligible for Supplemental Security Income (SSI) may continue to be eligible for Medicaid coverage when their earnings are too high to continue to receive SSI.
LogistiCare:
LogistiCare became NJ's medical transportation broker in July 2009 and is now responsible for arranging through its provider network: upper-mode non-emergent Mobility Assistance Vehicles (MAVs), Ambulance service and lower-mode, livery service for Medicaid recipients in all counties. Read More...
Medicaid-Covered Transportation More Than 20 Miles from Home
Medicaid Coverage for "Thick It"
---
Kaiser Health News: Public Health Officials Struggle to Identify Sepsis Before It Becomes Deadly
Kaiser Health News' consumer columnist Michelle Andrews writes: "Sepsis kills more than 250,000 people every year. People at highest risk are those with weakened immune systems, the very young and elderly, patients with chronic diseases such as diabetes, cancer or kidney disease and those with illnesses such as pneumonia or who use catheters that can cause infections. But it can strike anyone, even a healthy child like Rory." (Andrews, 8/23)
Kaiser Health News: How To Fight For Yourself At The Hospital — And Avoid Readmission 
Kaiser Health News columnist Judith Graham writes: "Everything initially went well with Barbara Charnes' surgery to fix a troublesome ankle. But after leaving the hospital, the 83-year-old soon found herself in a bad way. Dazed by a bad response to anesthesia, the Denver resident stopped eating and drinking. Within days, she was dangerously weak, almost entirely immobile and alarmingly apathetic. "I didn't see a way forward; I thought I was going to die, and I was OK with that," Charnes remembered, thinking back to that awful time in the spring of 2015. Her distraught husband didn't know what to do until a long-time friend — a neurologist — insisted that Charnes return to the hospital." (Graham, 9/1)
Getting Dental Care Can Be A Challenge For People With Disabilities
At the Marshfield Clinic dental center in Chippewa Falls, Wis., hygienist Karen Eslinger is getting her room ready. It's all quite routine — covering the chair's headrest with plastic, opening instruments, wiping down trays.
But then she starts getting creative.
"My next patient is pretty tiny and frail, so I like to go to oral surgery and get a heated blanket. I wrap her up, and I think it soothes her," Eslinger says.
The patient is 16-year-old Kathy Falk. She has Rett syndrome, which is a genetic disorder with a constellation of symptoms that look like cerebral palsy, Parkinson's, anxiety and autism all wrapped up together. She uses a wheelchair, can't speak and would find it difficult holding her mouth open for long stretches.Kathy's parents lift her from her wheelchair into the dental chair. Eslinger swaddles her in the warmed blanket and fits her with tiger-striped sunglasses to block the glaring light. She narrates the entire cleaning, telling Kathy everything she's about to do, interspersed with words of encouragement.
---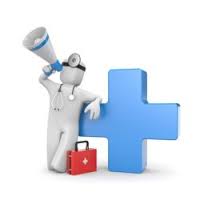 Health and Wellness Material:
Cancer Screening and Risk Reduction
The Arc of New Jersey and its Mainstreaming Medical Care Program have developed an initiative called Let's Talk About Health, which is a comprehensive effort to develop educational programs and materials that address health care issues of people with developmental disabilities in accesible formats. Projects to date include the following:
Health Screening and Risk Reduction for Breast Cancer
Health Screening and Risk Reduction for Colon Cancer
Health Screening and Risk Reduction for Prostate Cancer
Diabetes Materials
Launched in 2006 with funding from The Horizon Foundation for New Jersey, The Arc of New Jersey's Diabetes Awareness and Education Project has produced materials intended to educate individuals with developmental disabilities and their caregivers regarding important steps that can be taken toward the prevention and control of Diabetes, including changes in diet and exercise habits and regular monitoring by a health care professional. Read More...

To Order a Copy of the Diabetes Booklet and/or Educational Film, Click Here.
Diabetes Video Guide and Booklet (English Version):
Diabetes Booklet
Video Part 1
Video Part 2
Diabetes Video Guide and Booklet (Spanish Version):
Diabetes Booklet
Video Part 1
Video Part 2
Women's Health Project
Order Form for Women's Health Project Materials
Adult Personal Health Record and Medical History Form
With a grant from the New Jersey Council on Developmental Disabilities, The Arc of New Jersey has developed a new Adult Personal Health Record and Medical History Form, available in both English and Spanish. Completed by a family member or caregiver, the form provides accurate documentation of the most important aspects of a person's medical history. The original remains with the consumer or caregiver; a copy can be provided to the consumer's primary health care providers; and copies can be brought when the consumer has other health appointments, such as a clinic or emergency room.
Adult Personal Health Record and Medical History Form: English
Adult Personal Health Record and Medical History Form: Spanish
---