Public Policy
Information on the Comprehensive Medicaid Waiver Renewal Application
FY17 Budget Information
Improving the System:
The Arc of New Jersey engages in ongoing advocacy and oversight on issues related to transparency, communication and regulations within the New Jersey Department of Human Services and the New Jersey Department of Children and Families. Our program directors sit on a variety of committees, task forces and coalitions working on issues such as prevention, early intervention, special education, family support, employment, and healthcare. The Arc of New Jersey's legislative activities include monitoring and responding to all state legislation and budget issues that will impact individuals with intellectual and developmental disabilities, their families and provider agencies. In addition, we also weigh in with New Jersey's congressional delegation on national issues. Below you will find information on legislation currently pending at the State House and in Washington, DC.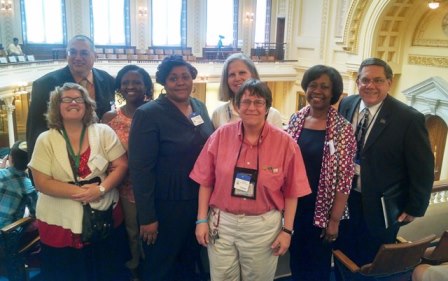 I/DD related legislation signed in FY16:
S475/A3223

Requires certain information regarding Down syndrome be provided to certain parents and families.

S2668/A4270

Establishes "MVP Emergency Alert System" for missing persons with mental, intellectual, or developmental disabilities.

S2770/A3956

Authorizes establishment of Achieving a Better Life Experience accounts for persons with certain disabilities.

S2940/A4531

Creates new criminal offenses concerning endangering another person; repeals N.J.S.2C:12-2 and N.J.S.2C:24-7.

S3117/S4781

Prohibits Division of Developmental Disabilities from compelling transfers of individuals with developmental disabilities from out-of-State to in-State facilities unless certain exceptions apply.

A1098/S671

Requires DHS and DMVA to conduct or contract for follow-up studies of former residents transitioning to community from their facilities.

S451/A1103

Establishes Office of Special Education Ombudsman in Department of Education.

A4420/S3056

Requires certain notifications for termination of services to persons with developmental disabilities and providers.

A1029/S274

Requires training program for school bus drivers and school bus aides on interacting with students with special needs, and requires development and use of student information cards.
I/DD related legislation signed by the Governor in FY15:
| | | |
| --- | --- | --- |
| Requires the Commissioner of Health to review impact of disabilities on persons in minority and underrepresented communities. | Previous law allowed a student with a disability, including autism, to have a service animal in school buildings and on school grounds. This bill expands the law to permit a student with a disability to bring a service animal on a school bus. | Requires a one-time application for requesting services for individuals with developmental disabilities from DCF and DHS. |
| | | |
Ongoing Legislative Priorities: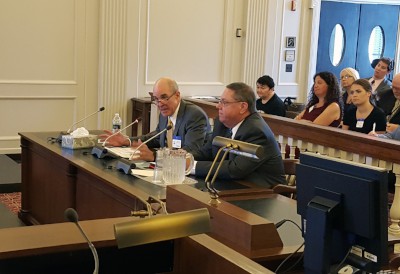 State Legislation:
Provides employers with various tax incentives for hiring persons with disabilities under insurance premiums tax, corporation business tax and gross income tax.

Requires Rutgers University to create a liberal studies program for students with intellectual disabilities; appropriates $500,000.

Establishes New Jersey Caregiver Task Force to evaluate and provide recommendations on caregiver support services.
Federal Legislation: