Public Policy
Improving the System:
The Arc of New Jersey engages in ongoing advocacy and oversight on issues related to transparency, communication and regulations within the New Jersey Department of Human Services and the New Jersey Department of Children and Families. Our program directors sit on a variety of committees, task forces and coalitions working on issues such as prevention, early intervention, special education, family support, employment, and healthcare.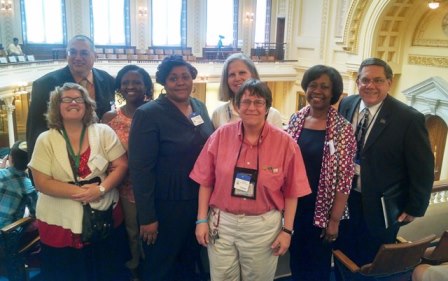 Pictured here: The Arc of New Jersey advocates at the State House in Trenton alongside Self-Advocates and Direct Support Professionals. 
---
Ongoing Legislative Priorities:
The Arc of New Jersey's legislative activities include monitoring and responding to all state legislation and budget issues that will impact individuals with intellectual and developmental disabilities, their families and provider agencies. In addition, we also weigh in with New Jersey's congressional delegation on national issues. Below you will find information on legislation currently pending at the State House and in Washington, DC.
State Legislation:
Provides employers with various tax incentives for hiring persons with disabilities under insurance premiums tax, corporation business tax and gross income tax.

Requires Rutgers University to create a liberal studies program for students with intellectual disabilities appropriates $500,000.
Federal Legislation:
FY15 Accomplishments
With your help we were able to accomplish so much this year! Thank you for your advocacy efforts and for your ongoing support of The Arc of New Jersey. Scroll down to learn more about our accomplishments, the year's biggest priorities, and the results of our advocacy surrounding the FY16 Budget signed by the Governor.
I/DD related legislation signed by the Governor in FY15:
Requires the Commissioner of Health to review impact of disabilities on persons in minority and underrepresented communities.

Previous law allowed a student with a disability, including autism, to have a service animal in school buildings and on school grounds. This bill expands the law to permit a student with a disability to bring a service animal on a school bus.

Requires a one-time application for requesting services for individuals with developmental disabilities from DCF and DHS.
Budget Campaign Results:
---
More than $100 million in new money for individuals on the waiting list, those facing emergencies and students aging out of their educational entitlement.
For the first time ever, we secured 200 new housing vouchers specifically for people with I/DD.
Finally, the Legislature added and the Governor kept in, an additional combined $5.5 million for individuals on the Waiting List (DHS) and families in need of Family Support Services (DCF).
---
FY14 Accomplishments
Governor Christie signed six bills impacting individuals with intellectual and developmental disabilities in FY14. These include the following:
Designates October of each year as "Disability History and Awareness Month"

Prohibits inclusion of bonus in employment contract of school superintendent for reducing number of out-of-district placements of students with special education needs

Prohibits discrimination against potential organ transplant recipient on basis of mental or physical disability.

Provides that school districts must ensure that students with disabilities have opportunities to participate in athletic activities equal to those of other students.

Requires Division on Civil Rights and DCA to post information regarding disability accommodation rights for owners and occupants of condominiums, cooperatives, and other common interest communities.

Establishes "Mom2Mom Peer Support Program" telephone helpline.
---
e-Advocacy Network
If you care about these issues and want to get involved, please consider joining our e-Advovacy Network. It is a free and easy way to support our Advocacy efforts and to make a difference in the lives of children and adults with intellectual and developmental disabilities.