Public Policy
The Arc of New Jersey engages in ongoing advocacy and oversight on issues related to transparency, communication and regulations within the New Jersey Department of Human Services and the New Jersey Department of Children and Families. Our program directors sit on a variety of committees, task forces and coalitions working on issues such as prevention, early intervention, special education, family support, employment, and healthcare. The Arc of New Jersey's legislative activities include monitoring and responding to all state legislation and budget issues that will impact individuals with intellectual and developmental disabilities, their families and provider agencies. In addition, we also weigh in with New Jersey's congressional delegation on national issues. Below you will find information on legislation currently pending at the State House and in Washington, DC.
---
Budget Advocacy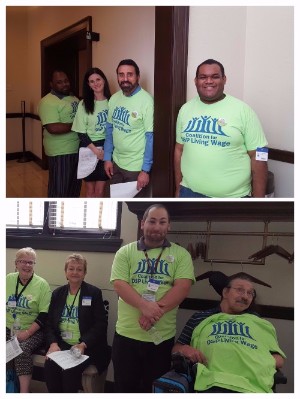 The Arc of New Jersey chairs the Coalition for a DSP Living Wage which aims to increase salaries in the FY18 Budget for our Direct Support Professionals. The Coalition is comprised of families, community provider agencies, Direct Support Professionals and, most importantly, people with intellectual and developmental disabilities (I/DD). These members share a common belief that individuals with I/DD deserve to live rich and meaningful lives as fully integrated members of our communities. Toward that end, Direct Support Professionals (DSPs), who play a critical role in meeting this objective, must be paid a living wage.
The final FY18 Budget document, signed by the Governor, included $20 million to increase wages for Direct Support Professionals! This is an outstanding victory and the product of many months of hard work, collaboration, and advocacy. The Coalition for a DSP Living Wage would like to thank everyone who participated in our action alerts, forwarded our materials, came out to our lobbying day in Trenton and shared our posts on social media. This was not an easy battle, but the developmental disability community came together and together, we were able to make a difference. Please check back in the coming weeks for information about our advocacy efforts to increase wages for DSPs in the FY19 Budget.
Follow the Coalition on Social Media:
---
Federal Advocacy:
Be sure to check out our Protect the Lifeline page for additional information about our advocacy work to protect Medicaid. There you will find resources, information, videos and action alerts.