Medicaid Unwinding Resources, Information & Updates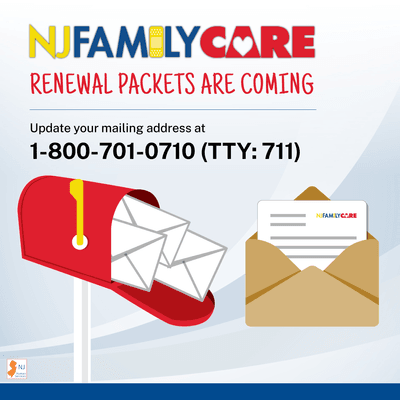 Since March of 2020, NJ FamilyCare/Medicaid has followed special rules related to the federal COVID-19 Public Health Emergency (PHE). These rules have allowed NJ FamilyCare/Medicaid members to keep their health coverage, even if they no longer qualified – for example, if their resources were above the allowable limit, which for most people with IDD, is $2,000. However, Congress recently passed legislation that requires state Medicaid programs to go back to the rules that were used prior to the start of the COVID pandemic. This process, which is known as "Medicaid Unwinding," will last for 12 months.  Therefore, each month, starting on April 1, 2023, 1/12th of the NJ FamilyCare/Medicaid beneficiaries will receive a Medicaid redetermination application. The exception to the requirement of completing a Medicaid redetermination application is individuals with IDD  who receive Supplemental Security Income (SSI).     
As part of this review, many members will receive mail from the State of New Jersey or their County Board of Social Services. Members will have to provide or confirm additional information so NJ FamilyCare/Medicaid can decide whether they still qualify for healthcare coverage. Members who do not respond to NJ FamilyCare/Medicaid mail may lose their coverage.
---
Upcoming Medicaid Unwinding Presentations
Updated Information on Medicaid Unwinding and the Medicaid Renewal Process 
Thursday, April 27
6 pm
Information has been disseminated during the past couple of months to alert families and staff about the end of automatic, continuous Medicaid enrollment and the Medicaid renewals, which are known as Medicaid unwinding. In the webinar on April 27th, The Arc of New Jersey's Beverly Roberts will provide updated information on this process. It is important to keep in mind that although Medicaid unwinding is beginning in April, the NJ FamilyCare/Medicaid renewal applications will be mailed during a 12 month period. Therefore, only 1/12th of the renewal applications are scheduled to be mailed in April. Starting in April 2023, it is anticipated everyone who will receive a Medicaid renewal application that month will receive a postcard from their Medicaid managed care organization (MCO) early in the month (probably in the first week to 10 days), to let them know that the Medicaid renewal application will be arriving in the mail that month. During this webinar, Beverly Roberts, Director of our Mainstreaming Medical Care Program, will share updated information about Medicaid unwinding and the Medicaid renewal process. Register here.
---
Resources
---
Previous Medicaid Unwinding Presentations
---
Previous Updates on Medicaid Unwinding