2017 - 28th Annual Conference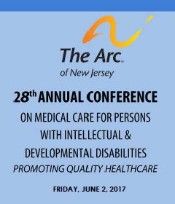 On June 2, The Arc of New Jersey's Mainstreaming Medical Care Program hosted its 28th Annual Conference at the Westin Princeton Hotel. In attendance were more than 330 health care professionals; staff from agencies providing services for individuals with intellectual and developmental disabilities (I/DD); family members; staff from the NJ Division of Developmental Disabilities (DDD); and representatives from Medicaid managed care organizations.
The day-long conference began with opening remarks from The Arc of New Jersey President, Robert Hage; Executive Director, Thomas Baffuto; Chair of the Mainstreaming Medical Care Advisory Board, Leone Murphy; and Director of the Mainstreaming Medical Care Program, Beverly Roberts.  
Elizabeth Connolly, Acting Commissioner of New Jersey's Department of Human Services, started the morning Plenary Session, emphasizing the significance of The Arc of New Jersey's work, year after year, helping families and staff understand how to access health care services for individuals with I/DD.
-2017- 28th Annual Conference Brochure
-Read Article Highlighted in the Fall 2017 Healthy Times News Article
---
Archived Conference Brochures