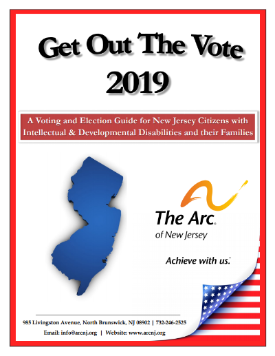 Election Day is Tuesday, November 5, 2019 and The Arc of New Jersey wants to help you learn more about the voting process, the candidates running for office and the resources you may need when heading to the polls. Click the image to the right to download your copy of our Get Out the Vote 2019 Guide and resources you can use to learn more about the candidates and the voting process. Check back often and be sure to share this page with friends. Remember, your vote is your voice! 
---
How to Learn More Before Election Day:
---
Additional Resources:
When you vote, you choose the people who will be making key decisions on the investment in and structure of programs and services.  Check out these state resources before you head to the polls.