Developmental Disability Awareness Month is an opportunity to promote respect for people with intellectual and developmental disabilities and to increase awareness of the daily obstacles faced by these individuals and their families. This month is also a chance to provide understanding, encouragement and opportunities to help persons with developmental disabilities lead productive and fulfilling lives.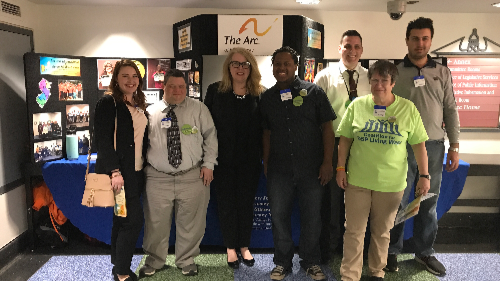 Outreach with Legislators
Each year, The Arc of New Jersey hosts a Developmental Disabilities Awareness Month outreach event at the State House in Trenton. This year will be a virtual event! Self advocates share resources and answer questions from Legislators from Districts across the state about current issues affecting the lives of people with I/DD and their families. 
Family Ambassador Kit
As an Ambassador you will carry on the tradition of families working together to improve the quality of life for all people with intellectual and developmental disabilities (I/DD). In your role, you will help raise awareness about the contributions people with I/DD make to society every day. On this page you will find resources about people with I/DD, related laws and proclamations, as well as sample letters you can use to spread awareness.
Social Media Tools
In celebration of Developmental Disabilities Awareness Month, we encourage you to educate others and spread awareness online! Don't forget to tag #DDAwarenessMonth2021, #AdvocacyAnytimeAnywhere!
Advocacy: Anytime, Anywhere
View an image gallery of submissions using our template with this year's theme, "Advocacy: Anytime, Anywhere".