John Bonanni, Ron Francioli & Sen. Anthony Bucco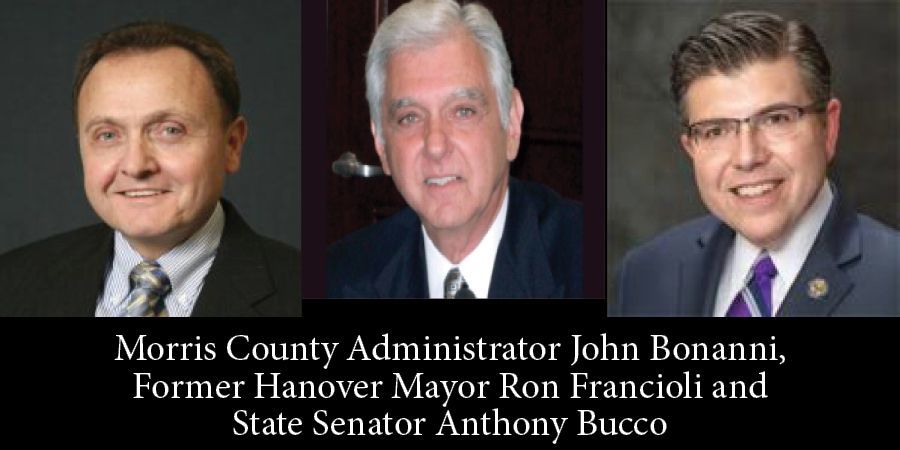 Nominated by The Arc Morris
On Thursday, March 26, 2020, a resident of one of The Arc/Morris Group Homes fell out of bed and struck his head. Due to the injury, protocols mandated a 911 call and the individual was taken to the hospital and admitted. Late the next day, his physician called and indicated he tested positive for COVID-19, which had escalated to frightening levels and began to dominate the 24 hour news cycle.
With little Personal Protective Equipment and inconsistent information on how to handle the situation, N95 masks that had been donated just a week before were brought into the home and somehow staff were calmed and largely remained in the home despite their right to an immediate 14 day quarantine.
The week before, another resident quietly died in her sleep in a different home, furthering the fear that was running rampant across the agency – and the nation.
Numerous heroes emerged throughout the devastating months that started in late March and continued well into June. Direct care workers selflessly returned to the homes of a population that we came to realize were at incredibly high risk for infection. Other line workers, in areas like property maintenance, payroll, bookkeeping and a host of administrative areas never stopped coming to work. A board, fearful and worried for the agency as a whole, were guided by a strong President that communicated calmly and clearly to support the efforts of the staff – and to pray the virus would not take too many lives.
But there were others in the public sector that truly made a difference. Hanover Township Mayor Ron Francioli and Morris County Administrator John Bonnani were the first called that fateful night of March 27th, when the first diagnosis of COVID-19 was confirmed. Understanding our fear that the system would suffer a massive worker shortage, they immediately got to work securing additional PPE and scouring the acute and long term care system to prepare for the worst.
But in addition to those outstanding public officials, was Senator Anthony Bucco. A longtime member of The Arc/Morris who was raised in a Morris County family with a tradition of service. His work intervening at crucial moments enabled the agency's residential system to remain solvent through the nearly unbearable months of March, April and May.
Second only to the obvious fear of the virus spreading in the residences was the worry that the staff would exercise their right to a 14 day quarantine following any exposure. This single issue posed the greatest risk to sustaining a significant, already understaffed system of over 25 discreet locations across Morris County. 
When the state health commissioner issued a mandate that long term care settings could not refuse re-admissions from acute settings following the treatment of the virus, we knew we were in trouble. It only worsened when the same communication indicated that mandating COVID testing would be prohibited. Looking back, this was the very policy that wreaked havoc on the nursing homes who were nearly as ill prepared as we were to address the spread of the virus.
Knowing this, we felt the only means to prevent an even worse spread was to use every contact possible to secure step down facilities to support our residents until they were free of infection and could safely come home without the risk of spreading the virus to other residents and staff.
This is where Senator Bucco, Administrator Bonanni and Mayor Francioli shined. Working with anyone necessary, they were able to secure numerous options to bridge the acute care and long term care needs by finding beds to support our residents until they were free of infection. Along with enabling access to the highest levels of state government, planting the seed for additional direct care funding and securing PPE, they worked day and night in any way necessary to support their constituents with special needs.
Mayor Francioli, County Administrator Bonanni and Senator Bucco were true heroes of 2020 for The Arc/Morris Chapter.