Direct Support Professionals of The Arc of Bergen & Passaic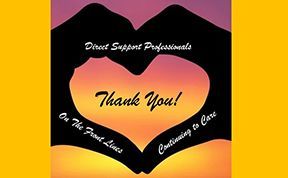 The Arc of Bergen and Passaic Counties was in the epicenter of the first wave of the pandemic. As the Country was just starting to feel the effects of COVID-19, Bergen and Passaic Counties were in the thick of it. Almost overnight hospitals were filling up, ICU beds were nearing capacity, ventilators were being used for multiple people at the same time and the 911 system was so overburdened that they didn't send out an ambulance, they sent a triage staff with the police to evaluate if you were ill enough to even get an ambulance to come and take you to the hospital.  It was not long before funeral homes were backed up weeks and hospital morgues overflowed into refrigerator trucks. Testing was unavailable unless you were in the hospital. People were afraid to leave their homes.  Yet, day after day without hesitation the Arc's Direct Support Professionals went to work. They had only had one concern, to keep the people whom they served, or more accurately loved, safe. To allay their fears about the pandemic and to keep them engaged in fun and interesting activities while they had to be home.
They took care of their residents when they were well and when they were ill.  When 911 was called and residents were not taken to the hospital because they were not yet "ill enough" or had symptoms that at the time were not even known to be part of COVID (but later made the list), The Arc staff stepped up again. Donning scrubs and gowns, hair and shoe coverings, masks, goggles and gloves it was a whirlwind of Gatorade and chicken soup and taking temperatures and blood pressures and oxygen levels throughout the days and nights and always reassuring the residents that they would be all right. The Arc's nurses provided support, monitoring and instruction for staff at all hours through Facetime and the staff never faltered. They continued to go to work day after day and now month after month. They are tired, heck they are exhausted and as the virus surges anew and our area is again at the top of the list, the staff are there, at work spreading good cheer. When residents couldn't visit families for Thanksgiving, the staff stepped in cooking and decorating and ensuring that all the Thanksgiving traditions were honored with their Arc family.  Now, instead of planning Christmas dinner or Hanukkah festivities with their own families, the staff are planning them with their residents because they will be with their Arc family that day too, working in a job that never stops, not for bad weather or holidays or a pandemic and requires staff to be their best selves every day no matter what is happening. Despite the challenges, the exhaustion, the fear and the very real risk to their own lives, the people they serve can count on them. The saying goes "Not all heroes wear capes".  At The Arc they wear masks and gloves and open hearts and smiles and encouragement, caring and love. We salute our DSP heroes!