Self Advocacy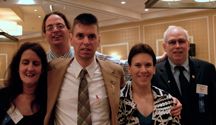 The New Jersey Self Advocacy Project was established in 1983 to provide statewide support for New Jersey's self advocates. The Project is committed to assisting individuals with intellectual and related developmental disabilities to become involved in self-advocacy as a means of supporting positive change on both a personal and social level.
The New Jersey Self Advocacy Project works toward accomplishing its objectives by:
-educating the State administration and legislators regarding issues of importance to people with disabilities
-conducting presentations to community groups and conference audiences
-planning and implementing leadership seminars
-establishing and supporting self-advocacy groups and helping them conduct various activities
-working on cooperative projects, including fundraising for community service organizations.
For more information about Self-Advocacy and The New Jersey Self-Advocacy Project, please feel free to email us (aritchey@arcnj.org) or call us at 732.246.2525, ext. 22.