About HLP
The Arc of New Jersey and the New Jersey Self-Advocacy Project are very pleased to receive a $25,000 grant from The Horizon Foundation for New Jersey to fund the Healthy Lifestyles Project. This is the 6th year we have received this funding for this very special project and we are grateful to The Horizon Foundation for New Jersey as these monies will help people with intellectual and developmental disabilities learn how to live a healthy lifestyle through diet, exercise and stress management.
---
Follow Along Online!
We post videos on our social media pages during the week to help you live healthy at home! Follow along with yoga poses, relaxing meditation techniques, healthy recipes and more! Follow us on Twitter, Facebook, Instagram and Youtube to get them directly to your feed.
---
Webinars
The New Jersey Self-Advocacy Project team is excited to announce our new webinar series! We find it important to keep nurturing our connections with you and branching out in ways that help us all continue to grow.
We will be presenting trainings every Tuesday in April at 2 PM on a variety of topics relating to self-advocacy and healthy living, focusing on what you can do at home.
Live viewers will be able to share comments and ask questionsduring the webinar. All webinars will be recorded and archived on our website to view after airing.
Click here to register and/or view past webinars.
---
Upcoming Events
All HLP events are currently postponed due to COVID-19 concerns, but we will be rescheduling events for later this year. Stay tuned!
---
Our sixth year of Healthy Lifestyles Project events is under way! Sign up to our Council Email Lists to stay updated.
Please note that all events are RSVP required and space is limited. Please contact us if you are interested in attending. 
Additionally, if you have suggestions for events in your area, please contact us at NJSAP@ArcNJ.org.
---
Trainings
All HLP in-person trainings are currently postponed due to COVID-19 concerns, but we will be rescheduling trainings later this year. Stay tuned!
For now, check out our Youtube page and Facebook, Instagram, and Twitter for training videos as well as healthy activities and tips! You can also register for our webinar series and view past videos here.
---
As part of HLP, the New Jersey Self-Advocacy Project team will present healthy lifestyle trainings, at your location, for FREE! During our Jan. 2018- Dec. 2019 grant cycle, a total of 72 trainings reaching an astounding 1,122 people.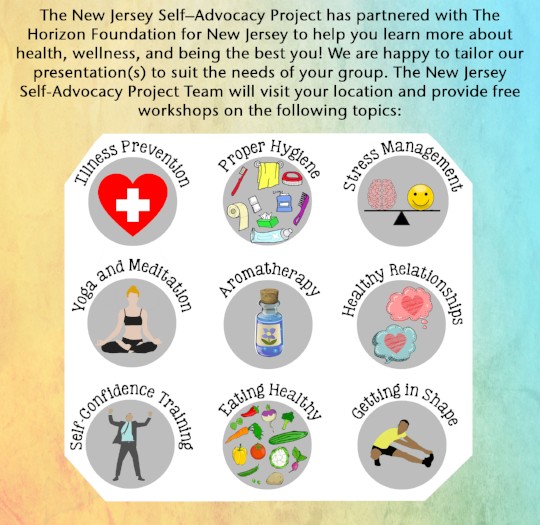 Can't make it to a training? Want to review a training you attended?
Watch more HLP training videos like the one below on our Youtube Channel!
---
Positive Pulse E-Newsletter

The Positive Pulse e-newsletter is sent monthly to our network with advice and resources on living a healthier life. Click here to sign up or send us an email at NJSAP@ArcNJ.org. You can find previous and current issues below.
Positive Pulse- All 2018 Issues2018 Topics Include: Emergency Preparedness, Workplace Wellness, Diabetes Awareness, Winter Wellness, Creative Arts Therapy, Heart Health, Nutrition, Sexual Assault Awareness, Mental Health Awareness, Outdoor Safety, Friendship and Socializing, Kindness

Positive Pulse- All 2019 IssuesJanuary: New Year, New You!, February: Healthy Snacking, March: It's Easy Being Green!, April: Misconceptions about Staying Healthy, May: I Want to Ride My Bicycle, June: Positive Paws, July: Parks and Recreation, August: Aromatherapy and Essential Oils, September: Yoga, October: Dental Hygiene, November: Holiday "Stuff", December Trying New Things
---
Events
In addition to trainings, many events are held as part of The Healthy Lifestyles Project. These events are scheduled throughout the state year round to promote healthy living though clean eating, exercise and relaxation. To view images from past events, take a look through the gallery below. Photos and videos are also routinely posted on our social media pages! A grand total of 43 HLP events were held in our Jan. 2018- Dec. 2019 grant cycle, reaching a total of 858 people!
More events like these are planned for this year! Bookmark this page, join our mailing list, and follow us on social media to keep up with new HLP events!