Upcoming Events
Our fifth year of Healthy Lifestyle Project events will begin again on January 1, 2019 and run through December 31, 2019! Stay tuned for event details!
---
About HLP
The Healthy Lifestyles Project is a program of The Arc of New Jersey and receives funding through a grant awarded by the Horizon Foundation for New Jersey. The program aims to provide people with I/DD with functional education about the importance of healthy choices related to diet, exercise and stress management. 
---
Trainings
As part of HLP, the New Jersey Self-Advocacy Project team will present healthy lifestyle trainings, at your location, for FREE! As part of out Sept. 2017- Aug. 2018 grant cycle, a total of 97 trainings were presented across the state, reaching an astounding total of 2,086 people.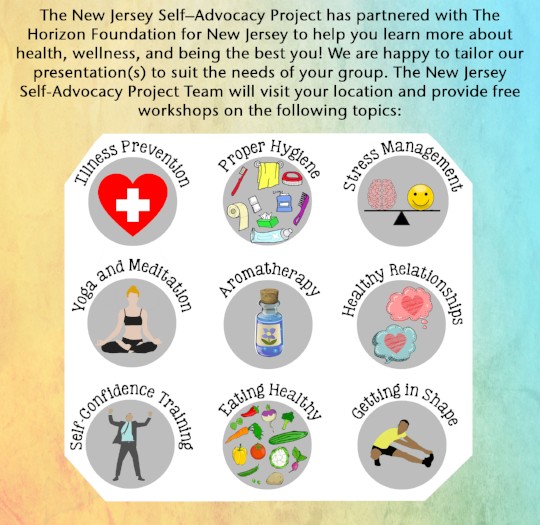 Can't make it to a training? Want to review a training you attended?
Watch more HLP training videos like the one below on our Youtube Channel!
---
Events
In addition to trainings, many events are held as part of The Healthy Lifestyles Project. These events are scheduled throughout the state year round to promote healthy living though clean eating, exercise and relaxation. To view images from past events, take a look through the gallery below. Photos and videos are also routinely posted on our social media pages! A grand total of 41 HLP events were held in our Sept. 2017- Aug. 2018 grant cycle, reaching a total of 916 people!
More events like these will be coming in the new year! Bookmark this page, join our mailing list, and follow us on social media to keep up with new HLP events!