Healthy Lifestyles Project

The Healthy Lifestyles Project is a program of The Arc of New Jersey and receives funding through a grant awarded by the Horizon Foundation for New Jersey. The program aims to provide people with I/DD with functional education about the importance of healthy choices related to diet, exercise and stress management.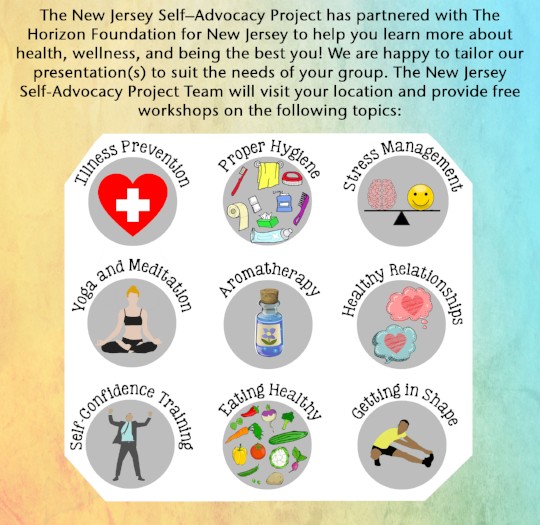 Interested?
Contact us to schedule a free workshop at your location!
Email: NJSAP@ArcNJ.com
Phone & Fax: (732) 749-8514
Can't make it to a training? Want to review a training you attended?
Watch more HLP training videos like the one below on our Youtube Channel!
---
Positive Pulse Newsletter
E-mail us at NJSAP@ArcNJ.org to sign up for our monthly Healthy Lifestyles Project E-Newsletter: Positive Pulse!
Check out our previous editions below.
---
In addition to trainings, many events are held as part of The Healthy Lifestyles Project. These events are scheduled throughout the state year round to promote healthy living though clean eating, exercise and relaxation. To view images from past events, take a look through the gallery below. Photos and videos are also routinely posted on our social media pages!