The Arc of New Jersey is the state's largest organization advocating for and serving citizens with intellectual and developmental disabilities and their families. The Arc of New Jersey is an affiliated chapter of The Arc, and community-based services are available statewide through our strong network of Local County Chapters.
---
Visit our partner programs and organizations by clicking on the icons below:
Private Login
News
Posted on 05/26/2015

Posted on 05/19/2015

Posted on 05/19/2015
Action Alert: Act Now to Protect our Lifeline! Medicaid, SSDI Under Attack!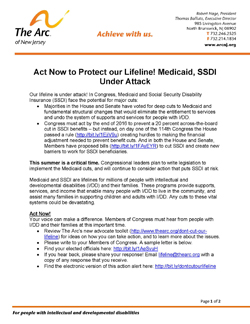 ---
ACTION ALERT: 
We Need You to Act Now! FY16 NJ Budget. Click the picture to view the alert.
---
Imprtant Notice: DDD Assessment/Re-Assessment Through the NJ CAT
---
Announcements
DD Awareness Contest Winners
Staff from The Arc of New Jersey, recently visited our contest winners from this years DD Awareness Contest. The theme of this years contest was "Don't Dis My Ability, Look at what I can do! Click Here to view the contest winners.
The Arc of New Jersey distributed its 2015 Annual Report to the Delegates at its Annual Meeting on April 9th. Click here to see a copy of the annual report.
Thank you for your continued advocacy support
The Arc of New Jersey would like to take the time out to thank all of our families and self-advocates for your continued advocacy efforts. The Arc of New Jersey is very excited to see that the proposed Fiscal Year 16 Budget includes funding in a number of areas that will benefit individuals with I/DD. Click Here for more information.
---
Do you shop on Amazon? Now you can make those shopping trips support The Arc of New Jersey as well. Log on to www.smile.amazon.com, and chose The Arc of NJ as your charity of choice!! 
---
Download The Arc of New Jersey Family Institute's Problem Form and let us help you navigate the system.
---
Events

Registration Now Open for 26th Annual Mainstreaming Medical Care Conference
The 26th Annual Conference on Medical Care for Persons with Developmental Disabilities will be taking place on Friday May 29th, 2015 at the Westin in Princeton, NJ. Registration for the conference is now open, Click Here to sign up.